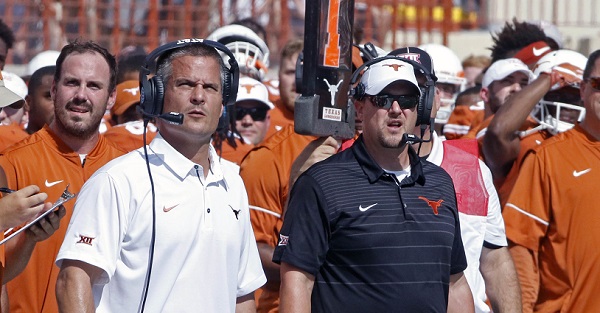 AP Photo/Michael Thomas
Texas head coach Tom Herman, right, and defensive coordinator Todd Orlando, left, watch a replay of a personal foul call against Texas during the first half of an NCAA college football game against Oklahoma State, Saturday, Oct. 21, 2017, in Austin, Texas. (AP Photo/Michael Thomas)
The massive boom in salaries for coaches has now hit the Big 12.
On Friday, Anwar Richardson of Rivals reported that Texas had given defensive coordinator Todd Orlando a $2 million annual deal after Orlando had received overtures from Florida State and Texas A&M.
FSU and Texas A&M contacted Texas defensive coordinator Todd Orlando about joining their staff this offseason. He turned them down. Tom Herman is rewarding Orlando with a contract worth nearly $2 million a year to remain in Austin.
For Texas, that price may be high, but it might be what had to be paid to keep the valued coordinator from jumping ship to Jimbo Fisher at Texas A&M. Not only has Orlando been with head coach Tom Herman for a couple of years at this point — Orlando was the defensive coordinator at Houston — but the Texas defense saw a big improvement in the 2017 season. There is still a way to go for the Longhorns, but after allowing over 30 points per game in 2015 and 2016, Texas only allowed 21.2 points per game in 2017.
Texas was 7-6 in the 2017 season, which was the first year in Tom Herman's Texas tenure.