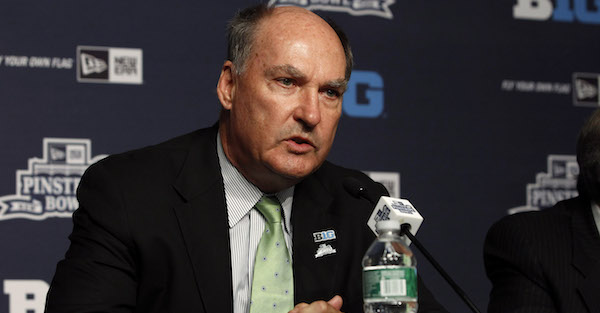 Jason Szenes/Getty Images
NEW YORK, NY - JUNE 3: Jim Delany, Commissioner of the Big Ten Conference addresses the media during a press conference to announce the New Era Pinstripe Bowl's eight-year partnership with the Big Ten Conference at Yankees Stadium on June 3, 2013 in the Bronx borough of New York City. (Photo by Jason Szenes/Getty Images
The Big 10 has had a successful few years in sports?particularly football?and commissioner Jim Delany will soon reap the benefits.
According to USA Today, Delany will receive over $20 million in future bonus payments. The conference's newest tax return indicated that Delany "became fully eligible for future bonus payments pursuant to his employment contract."
Related: The SEC once again made a record amount of money in 2016 thanks to the SEC Network
The conference detailed the amount of Delany's bonus on its tax return covering the fiscal year of July 1 through June 30. The Big 10 doesn't have to release specific employee agreements because it is a non-profit organization, and deputy commissioner Brad Traviolia declined to comment on Delany's bonus.
Since 2010, the Big 10 has more than doubled its total revenue to $483.4 million. Delany took over as commissioner in 1989, and he has been partly responsible for the conference's increase in revenue. Conference expansion and the Big 10 Network have been the biggest reasons for the increase in revenue.
Delany made $2.4 million during the 2015 fiscal year with $2 million in base compensation. His salary is lower than other Power 5 commissioners, though. Former SEC commissioner Mike Slive made $4.3 million in 2015, and Pac-12 commissioner Larry Scott made more than $4 million in his last reported fiscal year. Big 12 commissioner Bob Bowlsby and ACC commissioner John Swofford made about $2.7 million each.
University of Minnesota president Eric Kaler, who is the chairman of the Big 10 Council of Presidents and Chancellors, said in a statement that Delany's compensation "reflects the value and impact of his leadership."
"Commissioner Delany has provided invaluable leadership for Big Ten member institutions while delivering first-in-class performance during a time of great transformation in college athletics," Kaler said. "He has not only successfully balanced the missions of academic achievement, student-athlete development and athletic success, he has successfully developed the resources necessary to strategically position the conference for success well into the future."
Delany has positioned his conference for well into the future and is certainly doing a little better than the Big 12 in regards to rumors about losing schools.
(h/t USA Today)