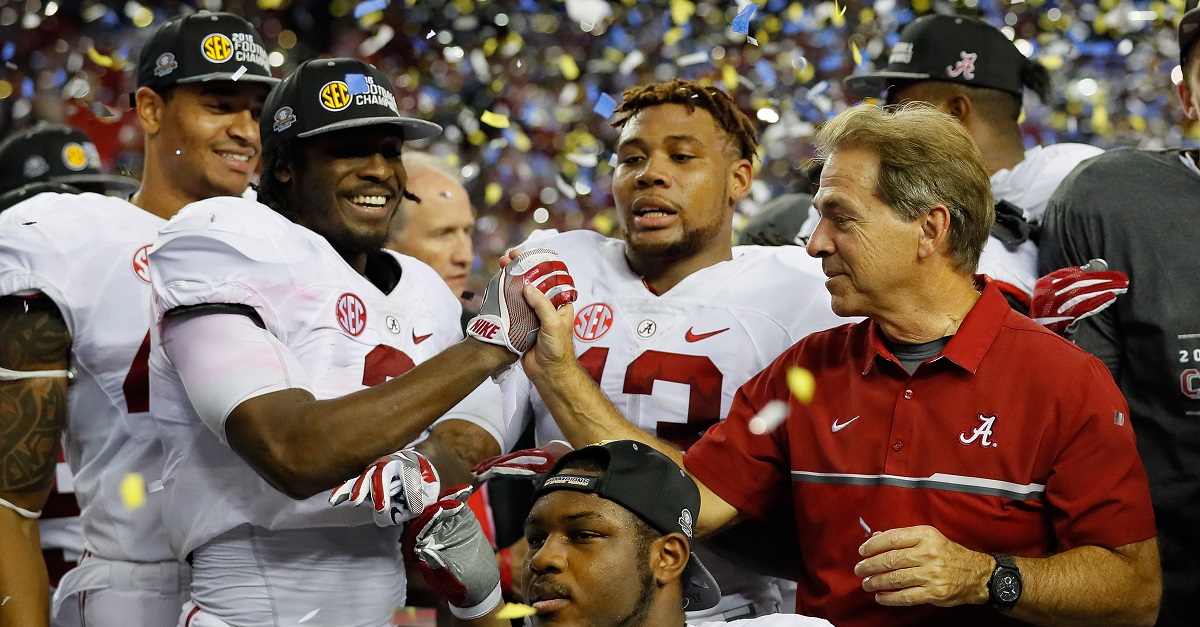 Kevin C. Cox/Getty Images
ATLANTA, GA - DECEMBER 03: Head coach Nick Saban of the Alabama Crimson Tide celebrates with his team after their 54 to 16 win over the Florida Gators in the SEC Championship game at the Georgia Dome on December 3, 2016 in Atlanta, Georgia. (Photo by Kevin C. Cox/Getty Images)
The Southeastern Conference is the first conference to release its tax records for the 2016 fiscal year, and it generated a record $639 million last year.
Related: One SEC team shakes up coaching staff following National Signing Day
The University of Georgia made $41.9 million, while Alabama and Ole Miss made $39.1 million. According to USA Today, the SEC Network is the biggest reason why the conference saw an influx in income.
Former commissioner Mike Slive was paid $4.3 million in total compensation for the 2015 calendar year. Slive retired during the middle of 2015, and new commissioner Greg Sankey took over for him. Sankey was compensated $1.25 million during his seven-month tenure for the 2015 year. Sankey served as the SEC's chief operating officer prior to being promoted.
For comparison's sake, the Big 10 distributed $32.4 million to each of its school for 2016, the ACC distributed anywhere from $23-27.6 million to its schools, the Pac 12 shared around $25 million and the Big 12 shared an average of about $22 million.
In the previous year, the SEC reported $527.4 million in total revenue, so there was a 21 percent increase from 2015 to 2016. The conference listed $420 million in revenue from TV and radio rights fees, which came mostly from the SEC Network. The SEC made $180.6 million from postseason events?including the College Football Playoff?which is up from $162.8 million from the previous year.
(h/t USA Today)