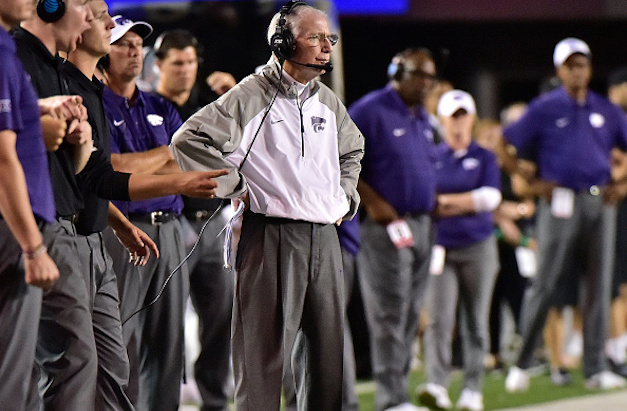 Frederick Breedon/Getty Images
NASHVILLE, TN - SEPTEMBER 16: Head coach Bill Snyder of the Kansas State Wildcats watches from the sideline during the second half of a 14-7 loss to Vanderbilt at Vanderbilt Stadium on September 16, 2017 in Nashville, Tennessee. (Photo by Frederick Breedon/Getty Images)
Tom Hayes had been with the Kansas State Wildcats for quite some time, but according to reports, Bill Snyder's defensive coordinator has elected to step away from the team after multiple years with the program and over 40 as a coach.
The first report came from GoPowercat.com, which passed on the fact that Hayes was actually thinking about calling it quits sooner, but he stayed with the Wildcats for one more season.
A veteran coach with more than 40 years of experience, Hayes served on Coach Bill Snyder's staff for the past seven seasons, the last six of which he held the title of defensive coordinator. During his six seasons as defensive coordinator, K-State averaged more than eight victories a season.

Sources had earlier indicated that Hayes planned to retire following the 2017 season, but then changed his mind and opted to stay. He's now decided it is indeed time to step away from coaching.
Hayes has a long history in the game of college football, stemming back to 1967 when he was a letterman defensive back for Iowa Hawkeyes, a college career that spanned from 1967 to 1971.
As far as coaching is concerned, Hayes retires with stops at Stanford, UCLA, Oklahoma and Kansas under his belt. He also had plenty of experience in the NFL, coaching defensive backs for the Washington Redskins for five seasons and operating in the same position for the New Orleans Saints for 2006 and 2007.