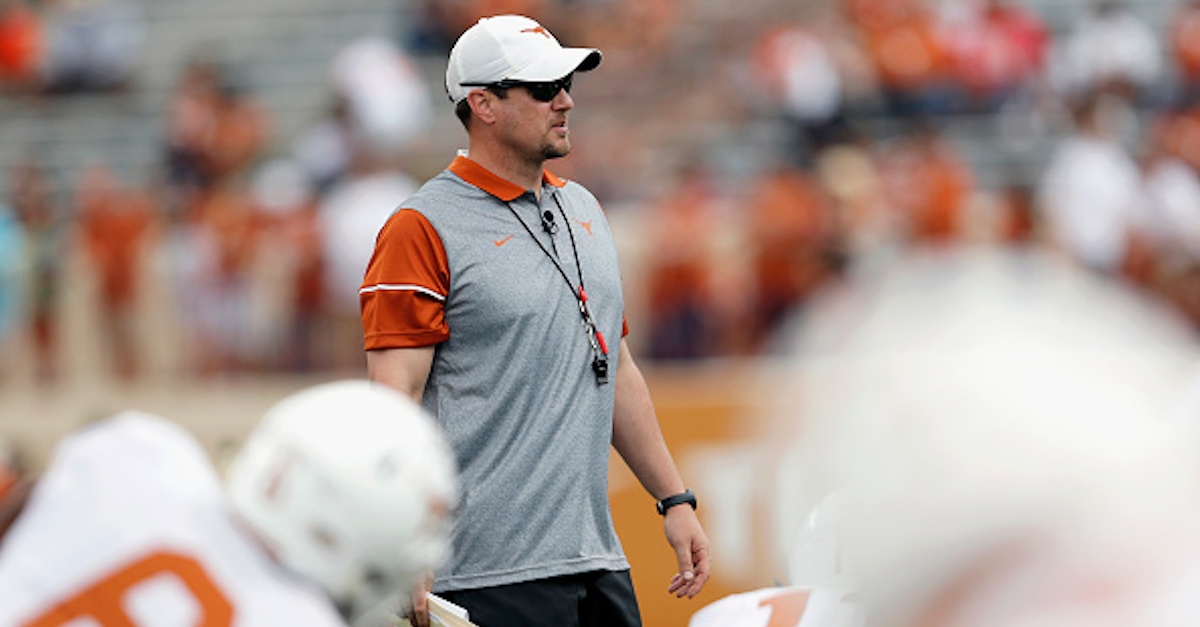 Tim Warner/Getty Images
AUSTIN, TX - APRIL 15: Head coach Tom Herman of the Texas Longhorns watches the team stretch before the Orange-White Spring Game at Darrell K Royal-Texas Memorial Stadium on April 15, 2017 in Austin, Texas. (Photo by Tim Warner/Getty Images)
New Texas Longhorns head football coach Tom Herman is off to a hot start on the recruiting trail early in his tenure, but it's still been a challenge for the former Houston Cougars head coach.
Herman, who was also the offensive coordinator at Ohio State under Urban Meyer, excelled in plucking big-time recruits out of the state of Texas to come to Columbus and become Buckeyes — the biggest example being former four-star quarterback J.T. Barrett, who is now the starting quarterback at Ohio State.
Now that Herman is the head guy in Austin, that's no longer a positive as Herman is having to compete at a higher level on the recruiting trail in Texas.
Via CoachingSearch:
?I think the doors to out-of-state recruiting have been opened a little bit, and I kick myself every day, because at Ohio State, I think we had a little bit of something to do with that,? he said. ?When I came down here and signed J.T. Barrett and Dontre Wilson and Demetrius Knox and Mike Mitchell, I think that was a little bit different than what had been done in the past here in the state of Texas.?
This is an interesting point from Herman, and it's something other coaches in states that are recruiting hot beds — like Georgia and Florida, too — that have made it far more difficult to keep in-state recruits home.
Still, Herman has put together a solid 2018 recruiting class and figures to continue to recruit well in the state of Texas going forward — especially if the wins follow Herman from Houston.