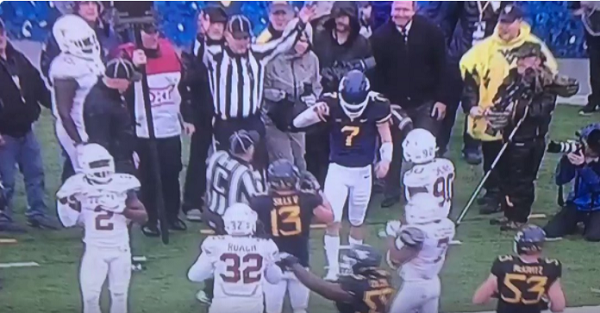 @HamiltonESPN/Twitter
@HamiltonESPN/Twitter
West Virginia quarterback Will Grier suffered an absolutely disgusting injury against Texas on Saturday in the first quarter. It kept him out of the rest of the game and the injury is not for the faint of heart as the middle finger on his throwing hand ended up getting bent in a 90-degree angle the wrong way.
While there has been no official announcement about Grier's injury, he will reportedly have surgery in the coming days to get his finger fixed. 247Sports is reporting that the plan for him is to miss the season finale against Oklahoma next week. However, he will not necessarily miss a bowl game for the Mountaineers. The team is optimistic that there isn't nerve damage or tendon tears so that has to bode well for Grier in the coming weeks.
West Virginia already has seven wins on the season so the best they could do next week against Oklahoma is potentially spoil the Sooners' season and College Football Playoff hopes with a win. They would have to do it with sophomore Chris Chugonov under center who would be making his first start ever.
Here is video of the injury if you really want to see it: