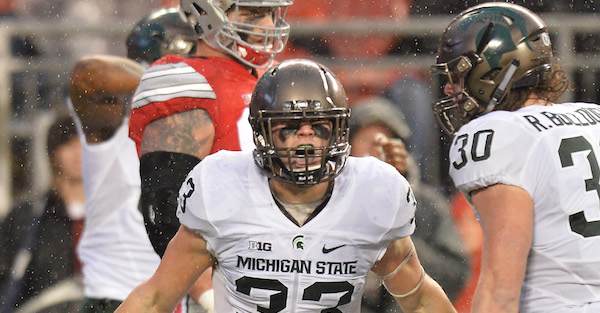 Jamie Sabau/Getty Images
COLUMBUS, OH - NOVEMBER 21: Jon Reschke #33 of the Michigan State Spartans celebrates after sacking quarterback J.T. Barrett #16 of the Ohio State Buckeyes for a loss in the second quarter at Ohio Stadium on November 21, 2015 in Columbus, Ohio. (Photo by Jamie Sabau/Getty Images)
The Michigan State Spartans suffered through a brutal season on the football field in 2016. While that was not all attributable to the loss of lineback Jon Reschke to injury, it certainly did not help Mark Dantonio's team thrive defensively. With that in mind, the Spartans suffered a personnel loss with news that Reschke will seek a transfer.
In short, Reschke engaged in some sort of verbal altercation with a Michigan State teammate. In that incident, he "made an insensitive and totally regrettable comment" and that was serious enough to spark a public apology to his coaches and teammates.
Reschke announced his departure via a lengthy statement, courtesy of MLive.com:
"Over a month ago, in an argument and a brief moment of anger, I lost control of my emotions and made an insensitive and totally regrettable comment involving a former teammate. In so doing, I have hurt and offended countless number of people, and for that, I am deeply sorry. If I could take my comment back, I would do so in a second.

"I have addressed my teammates and coaches and while many understand my actions were totally uncharacteristic of who I am, the hurt still lingers. Therefore, after discussions with coach Dantonio and other members of the staff, we have mutually decided that I will complete my degree and seek the opportunity of a graduate transfer
for my final year of football.

"To the entire Spartan Nation, to all of my teammates past and present, to coach Dantonio and the entire coaching staff, to all the trainers, managers and administrators – I offer my sincere apology and I thank you for the greatest four years of my life. I will always cherish the friendships, the memories and the journey. There is no doubt in my mind that the Spartan Dawgs will rise up and again return to being one of the strongest programs in college football. Forever Go Green, God Bless"
This is a big-time loss for Michigan State and it will be interesting to see if additional details emerge in the coming weeks. For now, Dantonio and company will be left searching to replace his production while simultaneously stabilizing the locker room.