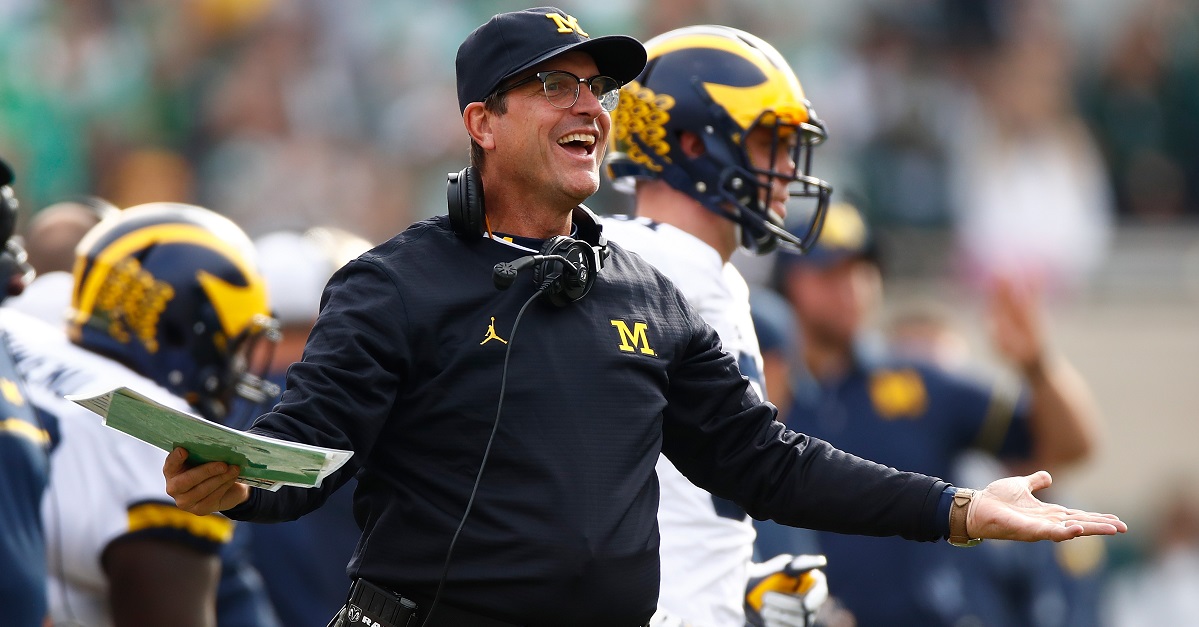 Gregory Shamus/Getty Images
Photo by Gregory Shamus/Getty Images
Jim Harbaugh won 10 games in each of his first two seasons as the head coach of Michigan. That performance, in tandem with the ugly exit of Brady Hoke, helped to make the always entertaining coach a very polarizing figure in the college football world but, in 2017, an 8-4 record has created real backlash for the Harbaugh era in Ann Arbor.
One such detractor of Harbaugh is apparently former Michigan great Amani Toomer, who visited with 97.1 The Ticket in Detroit (h/t SI's Extra Mustard) and held nothing back on Harbaugh.
"I'm a frustrated fan. I think that what Michigan signed up for was a Nick Saban, an Urban Meyer. We signed up for somebody who was going to come in and change the culture. I mean, he had a great first year. The first two years I was excited, but last year he had his best team and they lose to Ohio State? That was a heartbreaker.

"And this year they lose to Ohio State embarrassingly. They lose to Michigan State, another embarrassment. I just think that we deserve better than this."
Describing this year's Ohio State loss, with the team's No. 3 quarterback, as "embarrassing" is probably too aggressive and, frankly, the Michigan State loss (in a monsoon with the same quarterback) was, at the very least, explainable. Still, the Wolverines lost all four games to quality opponents and that performance prompted Toomer to compare Harbaugh to Paris Hilton.
"To me, that's not a supermodel, that's Paris Hilton. That's somebody who's given us nothing, but 'Oh, we're going to Rome. Oh, we wear Michael Jordan shoes. I don't care. I want to beat Michigan State, I want to beat Ohio State. That's the passion that I have for the program."
Toomer likely speaks for a wide swath of the Michigan fan base but, in truth, 2017 was set to be a rebuilding year even before injuries made the quarterback situation dire. In the end, though, 2018 is now even more important for Harbaugh because, if the Wolverines struggle again, the whispers will turn to screams about his overall showing as the man in charge.