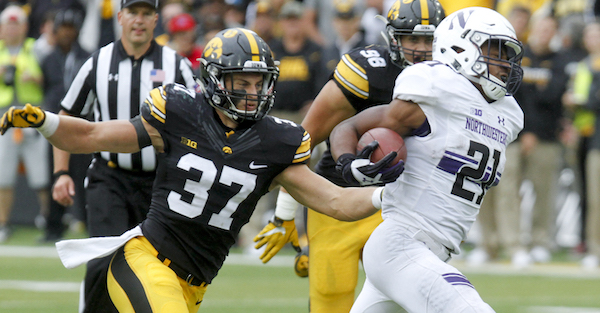 Matthew Holst/Getty Images
IOWA CITY, IOWA- OCTOBER 1: Running back Justin Jackson #21 of the Northwestern Wildcats breaks a tackle on a touchdown run in the third quarter by defensive back Brandon Snyder #37 of the Iowa Hawkeyes on October 1, 2016 at Kinnick Stadium in Iowa City, Iowa. (Photo by Matthew Holst/Getty Images)
Kirk Ferentz and the Iowa Hawkeyes endured a frustrating yet mildly successful season in 2016. The team wasn't terribly exciting at any point but Iowa reached a bowl game on the way to an 8-5 record and the Hawkeyes picked up a landmark win when they unseated the Michigan Wolverines to end Jim Harbaugh's team's perfect season at that point. However, Ferentz now faces an uphill battle with regard to one position group in 2017 and that paints a bleak picture.
Junior safety Brandon Snyder went down with an injury during Spring Practice this week and, according to the school, it has been diagnosed as a torn ACL. While the 6'1″, 210-pound free safety is not necessarily ruled out for the entirety of the 2017 season given the early timing of the ailment, Snyder probably won't be ready to seriously contribute until near the close of the campaign at the very earliest.
While Snyder is not a full-blown star player in the Big Ten, he started each game of the 2016 season for Iowa and racked up 85 tackles for a figure that was good for third on the team. Beyond that, Snyder is a quality player in coverage that brings experience and acumen to the table and that is not easily replaced, even at this early juncture. It remains to be seen as to what Ferentz and his staff will do to fill the void but it seems safe to assume that his replacement will not be quite the player that Snyder is.