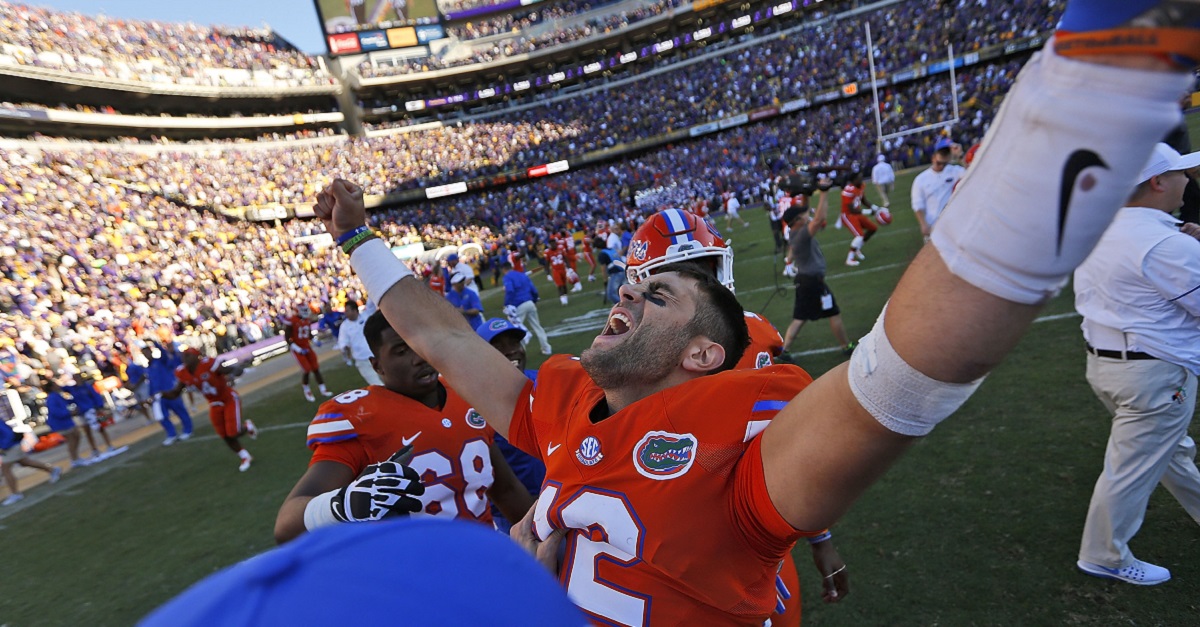 Jonathan Bachmann/Getty Images
BATON ROUGE, LA - NOVEMBER 19: Austin Appleby #12 of the Florida Gators celebrates after a game against the LSU Tigers at Tiger Stadium on November 19, 2016 in Baton Rouge, Louisiana. Florida won 16-10. (Photo by Jonathan Bachman/Getty Images)
Apparently the AP voters were extraordinarily impressed with Florida's win over LSU.
The Gators jumped a massive eight spots with the Sunday release of the new poll, as they are now No. 13 after being No. 21 in the poll the prior week. The Gators clinched the SEC East title with the 16-10 win in Baton Rouge, and they now have a date with Alabama looming in the Georgia Dome in two weeks.
The other big winner in the poll? Houston, who went from unranked to No. 17 in the nation after their 36-10 win over previous No. 3 team Louisville. The Cardinals dropped all the way from No. 3 to No. 11.
The full AP Poll.
1. Alabama (61)
2. Ohio State
3. Michigan
4. Clemson
5. Wisconsin
6. Washington
7. Oklahoma
8. Penn State
9. Colorado
10. Oklahoma State
11. Louisville
12. USC
13. Florida
14. Western Michigan
15. Florida State
16. Auburn
17. Nebraska
18. Houston
19. West Virginia
20. Boise State
21. Utah
22. Texas A&M
23. Washington State
24. Tennessee
25. LSU