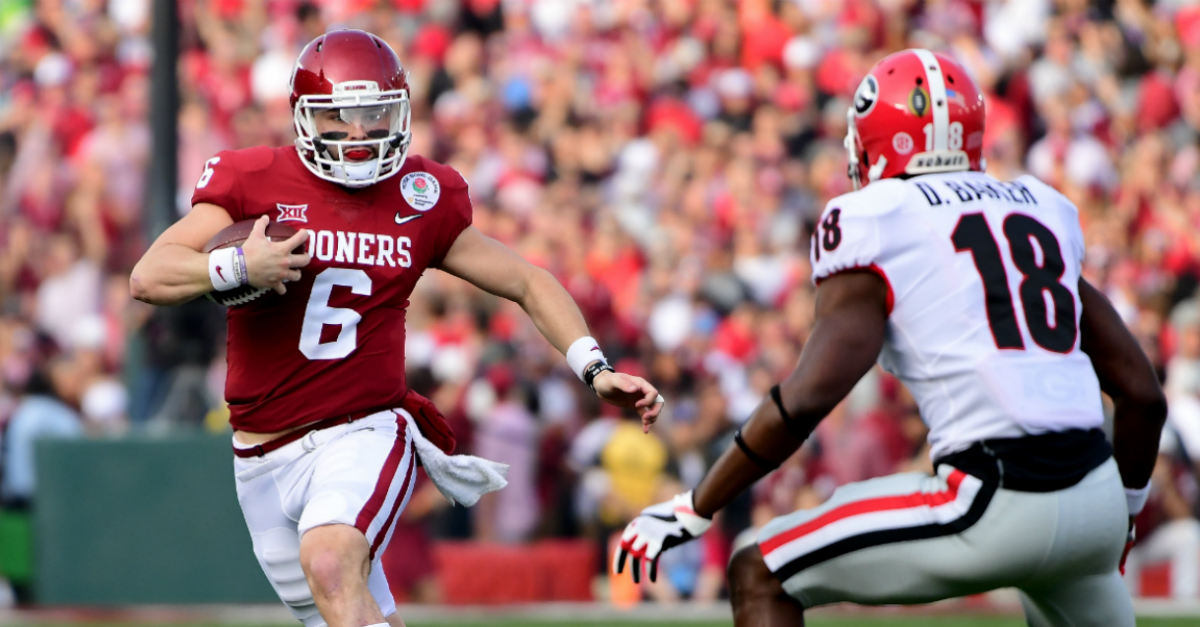 Harry How/Getty Images
PASADENA, CA - JANUARY 01: Baker Mayfield #6 of the Oklahoma Sooners scrambles in the 2018 College Football Playoff Semifinal Game against the Georgia Bulldogs at the Rose Bowl Game presented by Northwestern Mutual at the Rose Bowl on January 1, 2018 in Pasadena, California. (Photo by Harry How/Getty Images)
Oklahoma Sooners quarterback Baker Mayfield will be able to participate in the NFL scouting combine, despite being arrested last February, a league spokesman confirmed to ESPN on Wednesday.
Though the official finalized list of prospect for the combine won't be released until late February at the earliest, Mayfield, this year's Heisman Trophy winner, is expected to be among those invited.
The NFL has prevented several players with prior off-field legal issues from participating in the event during recent years, including Bengals running back Joe Mixon, who was involved in a domestic assault case last year.
Mayfield was arrested on Feb. 25 in Fayetteville, Arkansas and charged with public intoxication, disorderly conduct, fleeing and resisting arrest. However, the quarterback agreed to a plea deal last June and has already paid fines for several of the charges.
According to ESPN, league officials don't feel that Mayfield's incident is worthy of preventing him from participating in the combine.
A spokesman for the league told the website there was "no issue that would preclude him from attending" when asked about his status.
Mayfield will also participate in the Senior Bowl later this month.