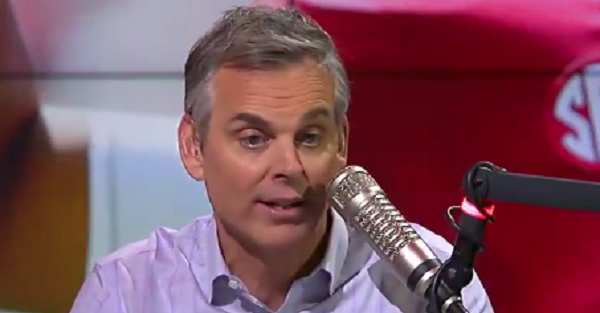 @TheHerd/Twitter
@TheHerd/Twitter
The second College Football Playoff rankings are out and the Wisconsin Badgers ranked No. 8 while the Georgia Bulldogs are ranked No. 1 ahead of the likes of undefeated Alabama and Miami. However, Colin Cowherd not only thinks that they will, but he thinks that a potentially undefeated Wisconsin team should get in based off an absolutely ridiculous reason.
Cowherd not only believes that Wisconsin would get in because the committee is "a series of grownups", but also because they would somehow improve ratings. That's of course assuming that Wisconsin is going undefeated the rest of the season, which is possible considering their soft conference schedule as well.
Here is his entire thought process:
"A., the committee is a series of grownups, athletic directors, people who work together all year long for college sports. You really believe, they are going to keep a Power 5 team that is undefeated out? Do you know the acrimony and the resentment? That would be a nightmare decision for a committee.

The second thing is, these executives love college football. They want their sport to keep growing because they all make more money,. You know what you don't do? Put in an entirely Southern final four of Clemson, Georgia, 'Bama, Oklahoma. They want Notre Dame or Wisconsin in there, and if Wisconsin goes undefeated, the power of the Big Ten audience will make it a much higher-rated and more national television show at the end of the year.

And C. is, Wisconsin is beating the living crap out of people. It's not like they're struggling to get by average teams. They're destroying people."
The fact that he thinks the committee would put a team in the Playoff to avoid an all-southern final four is absolutely ridiculous, especially if those other teams are worthy. While Georgia has trotted through its easy SEC East schedule, they did play at Notre Dame as part of the out of conference slate. Wisconsin can't claim anything even remotely close with games against BYU, FAU and Utah State.
Cowherd says that Wisconsin is beating people handily, but so is Georgia as they've been beating teams by an average of 24.88 points per game while Wisconsin is winning by an average of 22.77 points per game against much more inferior opponents. So keep that in mind when Cowherd says the Badgers are destroying teams.
[h/t The Spun]