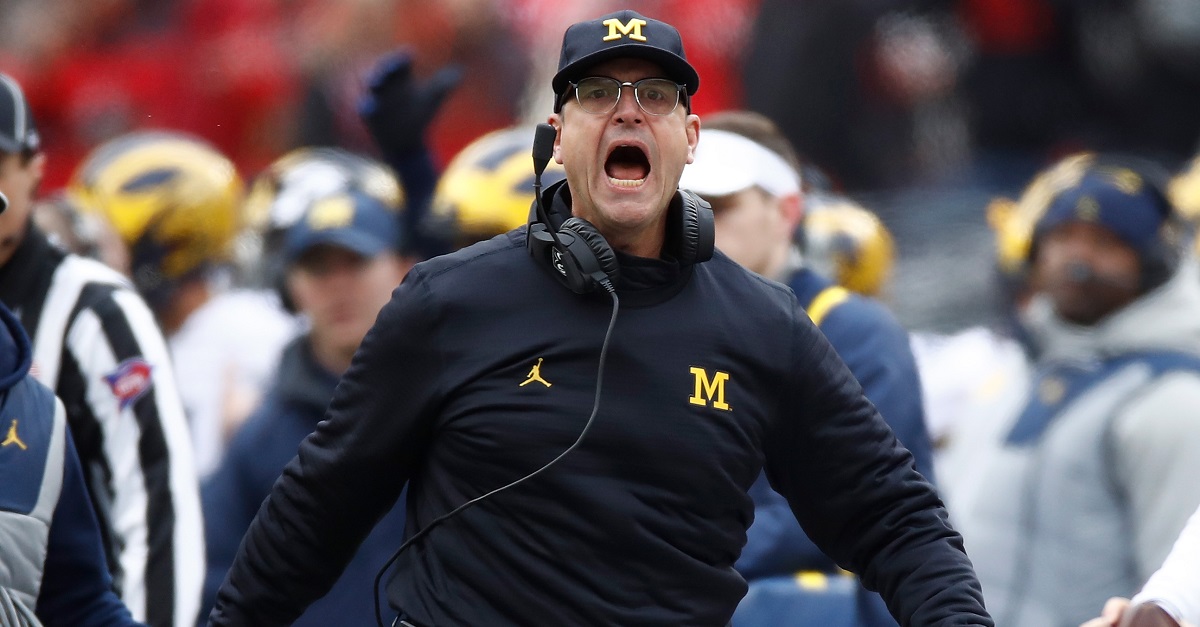 Gregory Shamus/Getty Images
COLUMBUS, OH - NOVEMBER 26: Head coach Jim Harbaugh of the Michigan Wolverines argues a call on the sideline during the first half against the Ohio State Buckeyes at Ohio Stadium on November 26, 2016 in Columbus, Ohio. (Photo by Gregory Shamus/Getty Images)
Cooper Petagna is leaving the Michigan Wolverines to join the Washington Huskies as the director of player personnel. While on Jim Harbaugh's staff, he was a recruiting coordinator.
This news was first reported by 247Sports.
Of note, you can make your jokes about Petagna leaving Michigan for a program closer to a national title if you want.
Anyway, prior to joining Michigan for one entire season, Petagna served as the Assistant Director of Recruiting and NFL Liaison for the Cincinnati Bearcats. Before that, he was a member of the LSU Tigers staff in the role of player personnel assistant.
A pretty meteoric rise so far for this guy.
Petagna began his career as a football recruiting specialist on Nick Saban's staff at Alabama. While with the Crimson Tide, he was responsible for assisting in the day-to-day operations in the recruiting office.
From what we know of him, he appears to be an excellent recruiter.
For whatever it is worth, he has already changed his Twitter account to reflect his leaving of Michigan and joining Washington.
At the time of this writing, Washington has yet to release an official statement announcing the move.