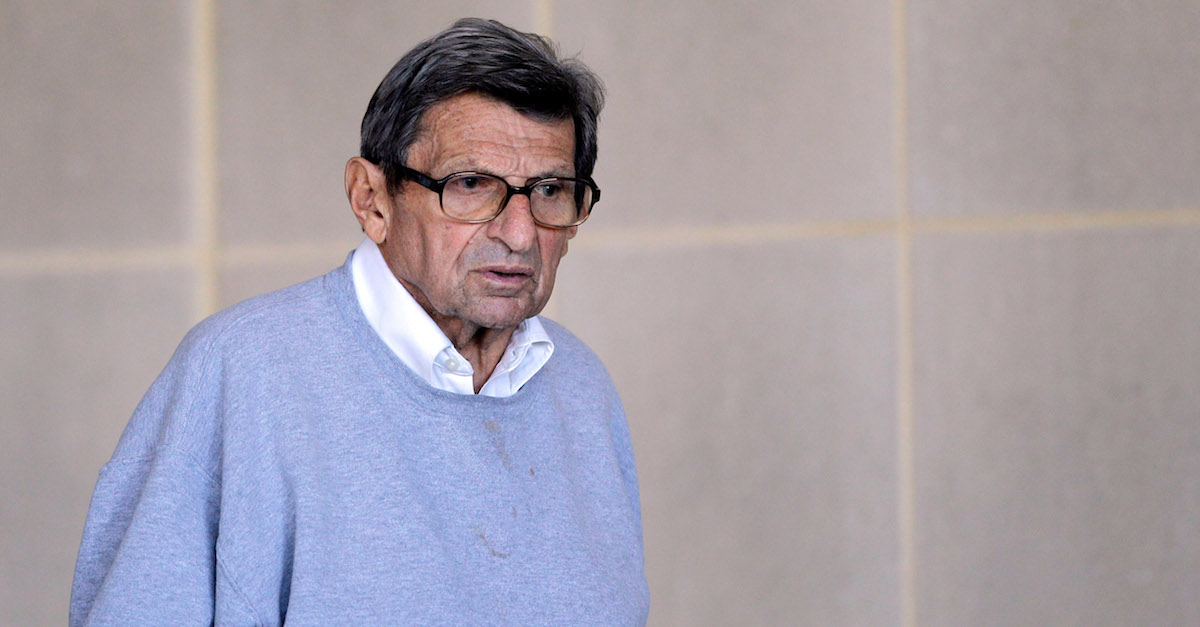 UNIVERSITY PARK, PA - NOVEMBER 08: Penn State University head football coach Joe Paterno leaves the team's football building on November 8, 2011 in University Park, Pennsylvania. (Photo by Rob Carr/Getty Images)
According to an unsealed report stemming from the Jerry Sandusky sexual abuse investigation at Penn State, six different allegations were either witnessed or reported to university officials as early as 1976.
RELATED: NCAA restores Joe Paterno's vacated wins
The documents being released are part of a battle in the courts where Penn State is trying to get back millions of dollars paid out in settlements to Sandusky's victims by its insurance provider. Those documents were unsealed by a judge on Tuesday morning and in compiling his report, risk-management exper Raymond Williams has found four previously rumored cases.
RELATED: With Penn State sanctions lifted, Paterno family hopes for restoration
One of those cases took place in 1976 where an alleged victim reportedly directly a complaint to Paterno.
The victim's 2014 court testimony provides more details on the 1976 allegation, where he says Sandusky "touched him as he showered," per Deadspin:
"Sandusky?s finger penetrated the boy?s rectum, the man testified in court in 2014, and the victim asked to speak with Paterno about it.

?Is it accurate that Coach Paterno quickly said to you, ?I don?t want to hear about any of that kind of stuff, I have a football season to worry about??? the man?s lawyer asked him in 2014.

?Specifically. Yes . . . I was shocked, disappointed, offended. I was insulted. . . I said, is that all you?re going to do? You?re not going to do anything else??

Paterno, the man testified, just walked away."
Another took place in 1987 when there was an instance of improper sexual contact between Sandusky and a minor that was reportedly witnessed by then-assistant coach Joe Sarra. Two more took place the next year, one of which included an instance of improper sexual contact between Sandusky and a child that was reportedly witnessed by then-assistant coach Kevin O?Dea. The other was reported to then-athletic director Jim Tarman.
RELATED: Report: More coaches knew about Penn State abuse than previously thought
The allegations revealed today come from testimony and evidence provided in PSU?s settlements with the alleged victims. Williams was able to view documents concerning those settlements since he was a part of the settlement cases, but those actual documents remain sealed to the public.