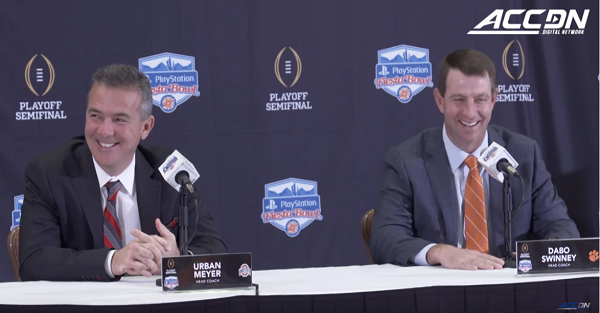 ACC Digital Network/YouTube
Clemson coach Dabo Swinney and Ohio State coach Urban Meyer are pretty good buddies in real life, but will become mortal enemies on New Year's Eve when their teams face off in the Fiesta Bowl. However, in their press conference before the game they seemed to be getting along pretty well.
RELATED: One parent told Urban Meyer not to recruit his four-star son, and there's one problem with that
Swinney has always looked up to Meyer and thinks he might have figured out why Meyer has won so many games in his time as a coach. He jokingly said that it's got to be Meyer's secret underwear he puts on for the game. Of course, Meyer loved the joke and brushed it off while the two had a good laugh, but could Swinney be on to something here?