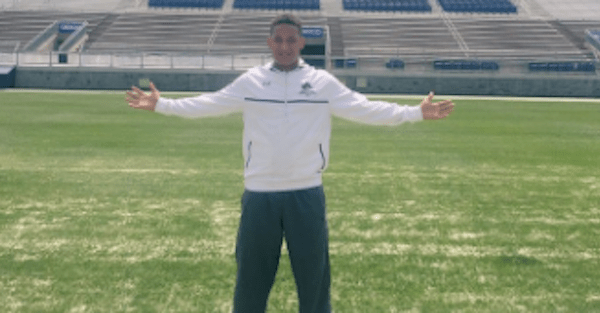 @dtheillest1/Twitter
Dorian Hardy has been committed to Penn State since mid-June and there is plenty of reason to be excited about the four-star defensive end prospect from Paramus Catholic High School in New Jersey. However, a bizarre story is now reportedly unfolding that involves Hardy and an assistant coach of the program.
NJ.com brings word that Hardy's father, Charles Hardy, is saying that his son was punched in the face by an assistant coach on his own team in the midst of a practice fight on Friday. As bizarre as that is, you are reading it correctly.
Assistant coach Michael Mitchell is the coach in question and Charles Hardy is on record as saying that he "punched Dorian twice in the face" during the altercation that also involved at least four players from the team. To make things even more interesting, the report indicates that Mitchell is also the father of a player at Paramus Catholic.
It should be noted that the NJ.com report does indicate that Charles Hardy's story does not exactly jive with the police account, as it says the incident began when Dorian Hardy "started to pull on another player's jersey" and it escalated while moving outdoors from a school hallway. The report does say that no charges have been filed but, at the very least, this is a crazy and developing story at this point in time.