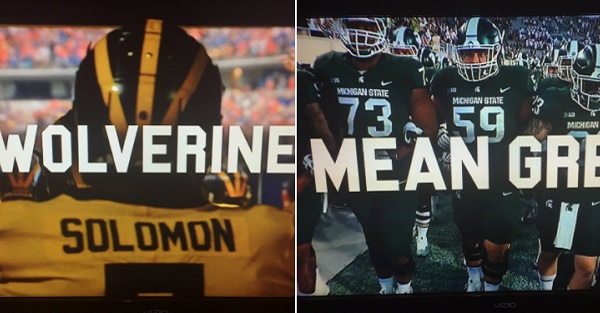 @nickpants/Twitter
ESPN nearly found themselves in a bit of trouble on Tuesday night, as North Texas director of athletics Wren Baker called out the network for using the phrase "Mean Green" to refer to Michigan State for one of ESPN's promos for the game.
Of course, North Texas is officially referred to as the Mean Green, while Michigan State — officially the Spartans — hardly ever gets called that phrase. Baker mentioned in his tweet that he planned to serve ESPN with a cease-and-desist for using the phrase, but it looks like the two sides have been able to reach an agreement.
ESPN has released this statement, per USA Today's Dan Wolken:
"This was an honest oversight and the spot is being adjusted to emove the Mean Green reference. We ahve been in touch with leadership at North Texas and they are appreciative. Michigan State had no involvement in the creation of the promo spot."
Michigan and Michigan State will face off on Saturday night at 7:30 ET on ABC.