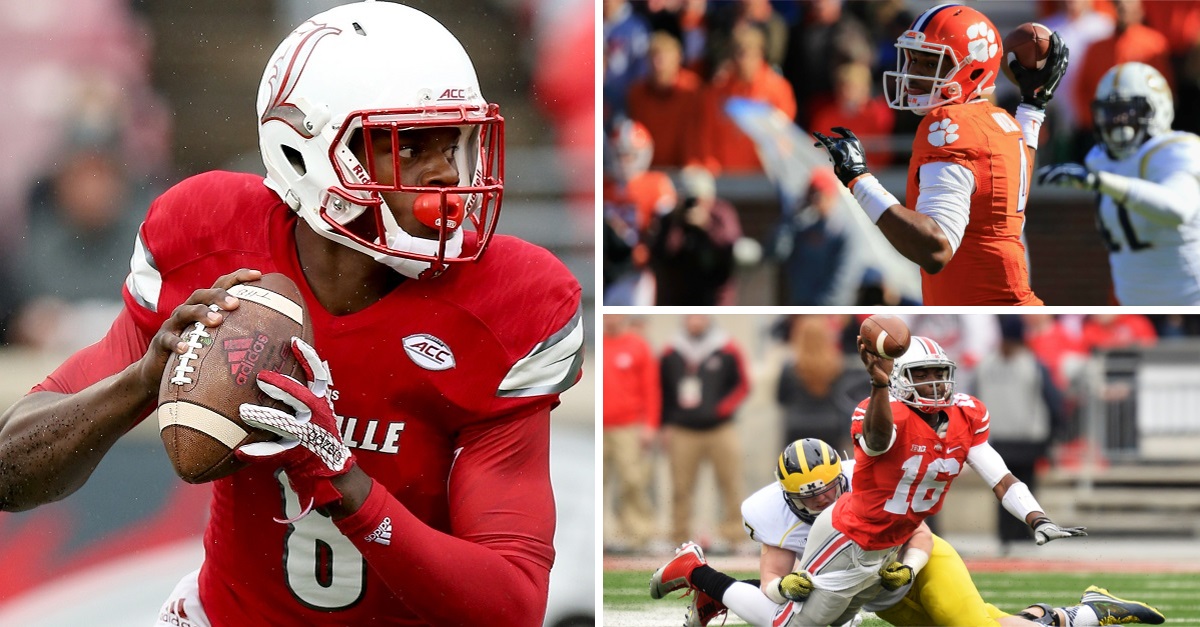 Getty Images
This seems like a bad oversight.
ESPN released "Ultimate QB rankings" for college football on Friday, and the two names on top make absolute sense. Lamar Jackson takes the No. 1 spot, as he should considering he has scored essentially of the touchdowns this season.
The quarterback at No. 2 is the only guy to beat Jackson this year: Clemson's Deshaun Watson. Watson did have a bit of a slow start to the year, but he definitely performed against Louisville. Watson also has the only season in FBS history with 4,000 yards passing and 1,000 yards rushing, which earned him an third-place finish in 2015's Heisman voting.
RELATED: This former NFL star said Cardale Jones, J.T. Barrett "really couldn't play quarterback" in 2015
Where things get interesting is what happens after those two, especially if you are an Ohio State fan. The rankings have a Top 10, and then seven quarterbacks that "just missed"; Buckeye quarterback J.T. Barrett wasn't listed among those 17 names.
Barrett has had a good season so far, with 17 total touchdowns, a 68.6-percent completion-percentage, and only two interceptions. Ohio State is 5-0 on the season, and Barrett's resurgent play at quarterback has been a big reason why.
I am not sure how these Ultimate rankings were calculated or formed, but it definitely seems off to not have one of the top Heisman contenders among the Top 17 candidates.