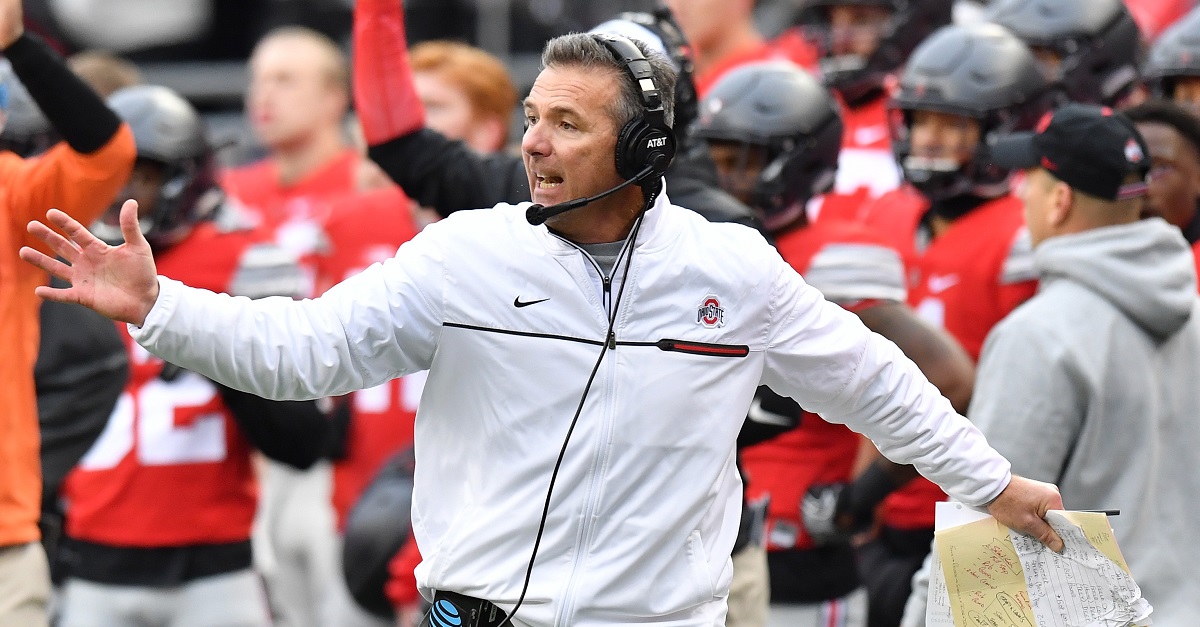 Jamie Sabau/Getty Images
COLUMBUS, OH - NOVEMBER 26: Head coach Urban Meyer of the Ohio State Buckeyes reacts on the sideline during overtime of the game against the Michigan Wolverines at Ohio Stadium on November 26, 2016 in Columbus, Ohio. (Photo by Jamie Sabau/Getty Images)
We didn't get the chaos that college football had last week, but we did have a great deal of movement thanks to Houston pulling off a huge 36-10 upset of Louisville on Thursday.
Louisville was previously No. 4 in my rankings and No. 5 in the College Football Playoff rankings. Who benefits the most from their loss? Let's take a look!
1. Alabama — SEC, 12-0
LW: 1 — Result: W, 30-12 vs. Auburn
Alabama didn't give up a touchdown in the entire month of November. With how bad Florida's offense is, that streak could continue in the SEC title game.
2. Ohio State — Big Ten, 11-1
LW: 2 — Result: W, 30-27 vs. Michigan
This should have been enough to solidify Ohio State's spot in the Playoff, even without the Big Ten Championship. They are 11-1, and they have wins over three teams in the Top 10. If that's not good enough to get into the Playoff, then we need to reconsider what we are doing here.
3. Clemson — ACC, 11-1
LW: 4 — Result: W, 56-7 vs. South Carolina
Clemson heard your "anything can happen in a rivalry!" and laughed it all the way into the ground. The Tigers will have a very legitimate test next week, though, so their Playoff hopes could still be spoiled by a very hungry Virginia Tech team.
4. Washington — Pac-12, 11-1
LW: 5 — Result: W, 45-17 vs. Wazzu
5. Michigan — Big Ten, 10-2
LW: 3 — Result: L, 27-30 vs. Ohio State
I still think that Michigan is very good, but their Playoff hopes are over with two losses and no conference title. Ohio State can make it work with one loss, but Michigan has no chance with two.
6. Penn State — Big Ten, 10-2
LW: 6 — Result: W, 45-12 vs. Michigan State
Big win for Penn State to clinch the Big Ten East, but they still need help to get into the College Football Playoff. If they beat Wisconsin, that's another good win, but if Clemson and Washington win their respective conference title games, then they should be in over Penn State.
7. Wisconsin — Big Ten, 10-2
LW: 7 — Result: W, 31-17 vs. Minnesota
All that stuff above about Penn State also applies to Wisconsin; they probably need a little bit of help because of the two losses.
I get that the Big Ten looks really good with four teams ranked this high, but the problem is that the conference lacks depth. After Nebraska got torched by Iowa, the conference is likely to have no teams ranked in any poll after these four. Beating up on bad Rutgers, Maryland, Illinois, Purdue, and Michigan State teams can only get these top Big Ten teams so far when they have two losses.
8. Colorado — Pac-12, 10-2
LW: 9 — Result: W,27-22 vs. Utah
This was a thrilling game that Colorado was essentially able to seal with a late fumble return a touchdown. The win gave Colorado the Pac-12 South crown, and they will now play Washington for the conference title.
Things could get interesting if Colorado wins that game, too. Colorado winning that game would be the help that a Penn State or Wisconsin would need, but then you have an 11-2 Colorado in the mix as well. That would be some fun drama on selection day.
9. Oklahoma — Big 12, 9-2
LW: 8 — Result: BYE
Oklahoma was off this week to prepare for Bedlam against Oklahoma State. Even with a win in that game, Oklahoma needs a lot of shenanigans to happen to get into the Playoff, and those shenangians shouldn't be enough, anyways.
10. Western Michigan — MAC, 12-0
LW: 10 — Result: W, 55-35 vs. Toledo
Toledo is a good team, but this game was probably a little closer than it should have been. P.J. Fleck and co. will have a chance to #RowTheBoat all the way into the land of undefeated next week in the MAC championship game, where they will face Ohio.
11.Oklahoma State — Big 12, 9-2
LW: 11 — Result: BYE
Oklahoma State also had this week off to prepare to Bedlam. They are pretty much out of the Playoff picture, even with a win over Oklahoma.
It's amazing how much that loss on the botched play to Central Michigan is hurting them right now, but there's also another side of that: they shouldn't have been in that situation against Central Michigan.
12. USC — Pac-12, 9-3
LW: 12 — Result: W, 45-27 vs. Notre Dame
Adoree Jackson was fantastic in this game, scoring a touchdown off a kick return and a punt return. His versatility lately has given USC an extra boost, which helps explain part of the tear they've been on recently. (also, Sam Darnold has helped a LOT)
Still not a Playoff team, though. Stop trying to force that narrative.
13. Florida State — ACC, 9-3
LW: 15 — Result: W, 31-13 vs. Florida
Florida State really fell off the map after that 62-20 loss to Louisville earlier in the year, but they have really recovered to have a nice season despite devastating injuries to their defense. Dalvin Cook has just casually rushed for 1,620 yards and 18 touchdowns this season, and the Noles are going to be a really tough matchup for anyone in a bowl game.
14. Navy — AAC, 9-2
LW: 19 — Result: W, 75-31 vs. SMU
No, that's not a typo, Navy really but a 75-spot up on a decent SMU team. This is after the Midshipmen scored 66 points last week, too.
Navy will go on to the AAC title game, and then they have their annual game with Army after that. There is still a chance they end up as the highest-rated Group of 5 champ, which would earn them a bid into the Cotton Bowl.
15. Auburn — SEC, 8-4
LW: 13 — Result: L, 12-30 vs. Alabama
I mean, a loss at Alabama can't drop you too far…
Auburn was able to get into scoring position several times, but they were never able to get inside Alabama's 10-yard line. The result? Four field goals and an 18-point loss.
16. Stanford — Pac-12, 9-3
LW: 23 — Result: W, 41-17 vs. Rice
A scheduling snafu meant that Stanford closed the season with Rice instead of one of their normal rivalry games. It was a decent enough win, and Stanford moves up in the rankings after what is now five straight victories on the season.
Hey, Stanford ended the season well, has three losses, and they've beaten USC. Where's their push for the Playoff, ESPN?
17. West Virginia — Big 12, 9-2
LW: 22 — Result: W, 49-19 vs. Iowa State
That loss last week to Oklahoma may have been really disappointing for the Mountaineer faithful, but West Virginia still has a chance to get a 10-win season next week against Baylor. 10-win seasons are pretty good!
18. Florida — SEC, 8-3
LW: 17 — Result: L, 13-31 vs. FSU
That SEC title game is going to be ugly, isn't it?
19. LSU — SEC, 7-4
LW: NR — Result: W, 54-39 vs. TAMU
LSU is a weird team to rank. Some weeks under Orgeron, they look like world-beaters, but then against Florida and Alabama, they looked like the same-ol' LSU.
Now, the "same-ol' LSU" isn't a bad thing to be, but the last few years of Les Miles didn't exactly inspire a ton of confidence in people in big games. Hopefully Orgeron can reverse that trend with a bowl-game victory.
20. Houston — AAC, 9-3
LW: 16 — Result: L, 44-48 vs. Memphis
There is a point where we should talk about the AAC as a legitimate conference. Yes, Houston lost a close one to Memphis, but Memphis is pretty good. Navy is pretty could. The next team on this list of rankings is pretty good.
However, "pretty good" wasn't good enough for Tom Herman, as he bolted to Texas right after the game. Houston is still a good coaching spot, though, so don't expect them to have much (if any) of a dropoff next year.
21. South Florida — AAC, 10-2
LW: NR — Result: W, 48-31 vs. UCF
This is the first 10-win season in South Florida history, which is crazy if you remember that 2007 season where they were briefly ranked No. 2 in the nation. USF won't go to the AAC title game because of an earlier loss to Temple, but they are still a pretty good team that should have a good chance at getting to 11 wins with a bowl game.
22. Virginia Tech — ACC, 9-3
LW: NR — Result: W, 52-10 vs. UVA
Will they be able to give Clemson a run for their money? I don't know, but they did look the part of division champ by blowing out a bad Virginia team. However, that loss to Georgia Tech — playing with five freshman backups on offense — two weeks ago, plus the only three-point win over Notre Dame means that the Hokies are extremely difficult to project.
23. Pitt — ACC, 8-4
LW: NR — Result: W, 76-61 vs. Syracuse
That's not a basketball score. They really threw up 137 points in this game.
Pitt has one of the more underrated resumes in the country. Yes, they have four losses, but none of them are particularly bad. Also, they have wins over Penn State and Clemson. Ohio State and Michigan are the only other schools with multiple wins over the current Top 10.
24. Louisville — ACC, 9-3
LW: 14 — Result: L, 38-41 vs. Kentucky
Lamar Jackson should still be the Heisman frontrunner, but man… this was a bad loss. Kentucky may be a decent team, and this is a rivalry game, but Louisville was in the Playoff picture just 10 days ago. Rough finish to the season for them.
25. Boise State — MW, 10-2
LW: 18 — Result: L,20-27 vs. Air Force
A loss at Air Force isn't the worst thing in the world, but Boise did blow their chance at a Cotton Bowl bid with this defeat. They are still a quality team, but this isn't one of the "classic" Boise teams that we've seen cause chaos in the past.
DROPPED FROM THE RANKINGS: Nebraska (20), Utah (21) North Carolina (24), Washington State (25)