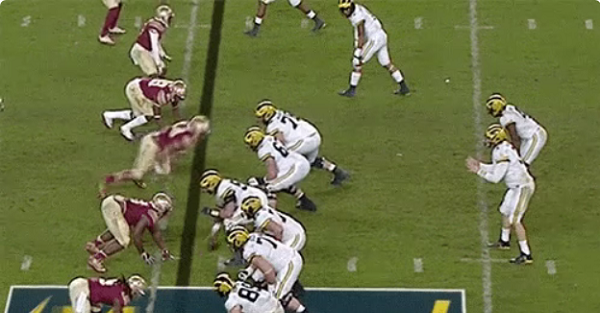 Twitter/@mshamburger1
The Florida State Seminoles escaped Michigan in the Orange Bowl 33-32. They needed a crazy kick return and one last defensive stand to get the win, but might have gotten away with a penalty on that last stand.
RELATED: FSU opens up big lead over Michigan with 92-yard touchdown
Michigan had a fourth down and 10 yards to go with less than a minute left and needed the first down to inch closer to field goal range. However, Wilton Speight's pass feel incomplete thanks to some pressure from the FSU defensive line. However, DeMarcus Walker seemed to have gotten an advantage by getting into the neutral zone before the snap.
RELATED: Here's the insane kick return that led to FSU's game-winning TD
And a screenshot from one Reddit user appears to show DeMarcus Walker in the neutral zone at the time of the snap:
It looks like FSU should have been called for an offsides and thus, given Michigan one more chance at a first down with only five yards to go. We'll never know if Michigan would have gotten that first down, but it certainly would have been nice to see them try.
[h/t 247Sports]