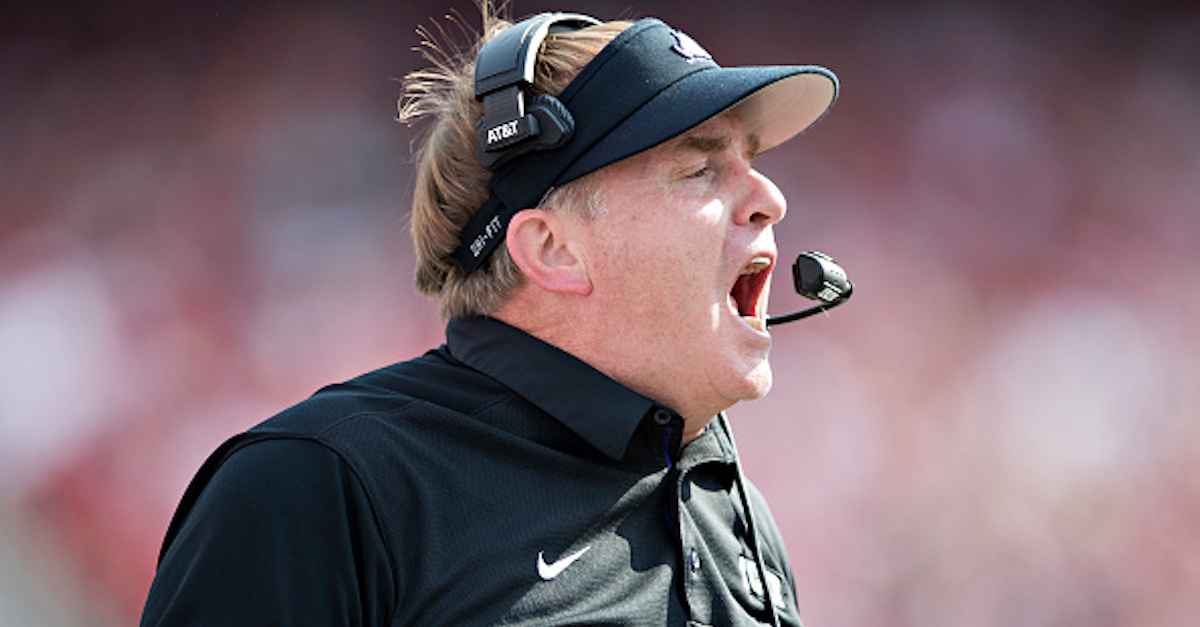 Wesley Hitt/Getty Images
FAYETTEVILLE, AR - SEPTEMBER 9: Head Coach Gary Patterson of the TCU Horned Frogs yells to his team during a game against the Arkansas Razorbacks at Donald W. Reynolds Razorback Stadium on September 9, 2017 in Fayetteville, Arkansas. The Horn Frogs defeated the Razorbacks 28-7. (Photo by Wesley Hitt/Getty Images)
TCU and head coach Gary Patterson have agreed to a contract extension through 2024.
The coach announced the new deal during his postgame press conference following the Horned Frogs' 45-22 win over Baylor on Saturday, which earned a spot in the Big 12 Championship Game.
Patterson will reportedly make $4.7 million annually guaranteed with incentives, a source close to the situation confirmed to the Star-Telegram. His previous deal was worth $3.95 million per year, the newspaper reported based on TCU's most recent public tax filing
?I don?t do this because of money,? Patterson said after practice Tuesday. ?It?s about job security for my staff, it?s about showing recruits that TCU?s committed to the long haul and what we want to get accomplished and for us to keep moving forward as a program and as a university.?
Patterson, 57, is the winningest coach in TCU history with a 159-56 record during 17 seasons as head coach. The extension comes amid speculation that several other programs would be vying for his services this offseason.
Patterson has won 20 total coach of the year awards, including his most recent in 2014, which included Associated Press, Big 12, the American Football Coaches Association, The Sporting News, Eddie Robinson, Walter Camp and "Bear" Bryant honors.