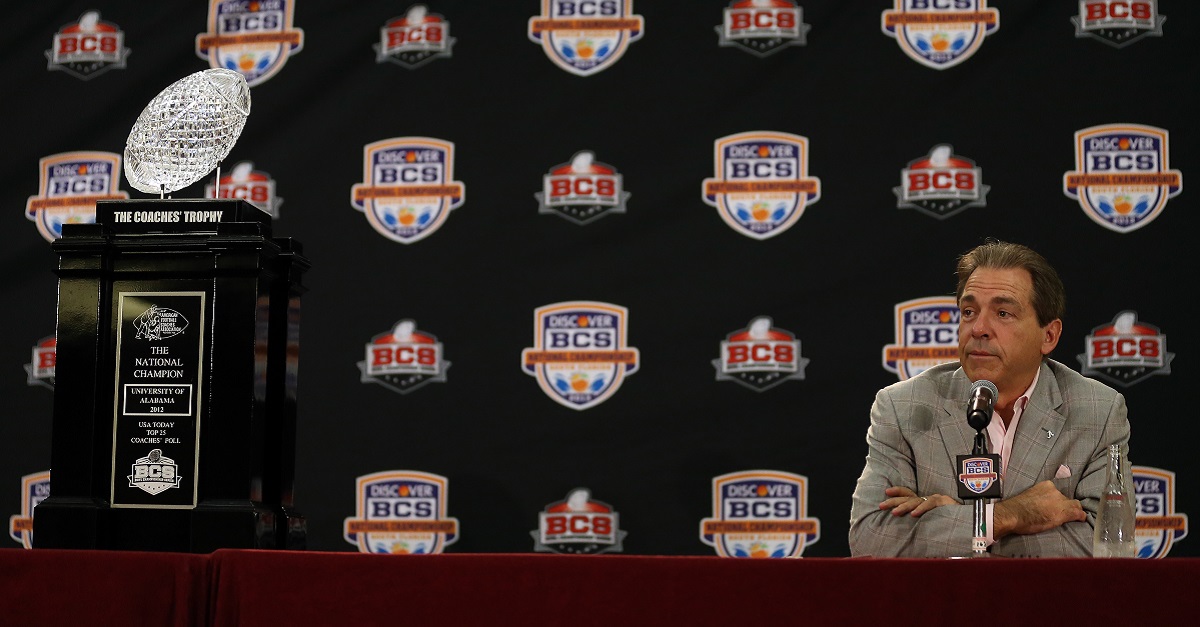 Streeter Lecka/Getty Images
FORT LAUDERDALE, FL - JANUARY 08: Head coach Nick Saban of the Alabama Crimson Tide speaks to the media during the Discover BCS National Championship Press Conference at the Harbor Beach Marriott on January 8, 2013 in Fort Lauderdale, Florida. (Photo by Streeter Lecka/Getty Images)
We still have a couple of week before the first College Football Playoff rankings of the 2016 season are unveiled, but that is not stopping people from trying to get a gauge on just what those rankings could hold.
One source for that? The old BCS rankings, which are technically still kicking if you know what to look for. The rankings take the AP and Coaches Polls, plus the six computer rankings that were used back when the BCS was used to determine college football's national championship game.
RELATED: Three teams that should hire Chip Kelly if he goes back to college football
While the rankings go nearly in lock-step with the current AP Poll, there are a couple of interesting changes in there. The standings have Texas A&M over Washington, and perhaps even more surprisingly, Florida State over undefeated West Virginia.
It will be interesting to see how these BCS rankings will progress throughout the season, as everyone will want to know what would have happened under the old system. As we saw in 2014, No. 4 ranked Ohio State won the national title, and they wouldn't have even been close if we were still using the BCS that year.
[H/T College Spun]