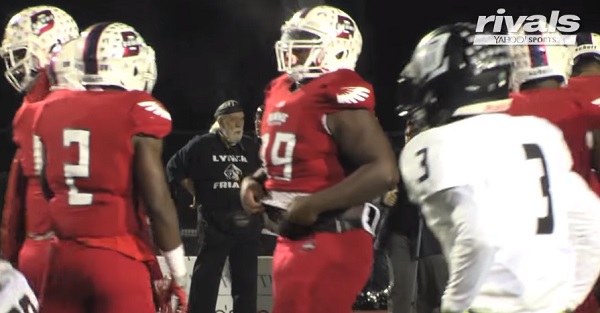 YouTube/Rivals.com
@_TMBoog/Twitter
What a stunner!
Four-star defensive tackle Calvin Avery (6-foot-2, 310 pounds, Dallas, TX) is one of the top recruits in the state of Texas, and he was heavily pursued by several of the traditional college football powers. Avery won't be going to any of those, though, as he instead announced his commitment to Lovie Smith and Illinois on Friday night.
Avery told Scout that one of the reasons he picked the Fighting Illini is that he really likes Smith's attitude towards coaching.
"He's a really cool dude," Avery told Scout.com's Greg Powers. "He's not angry, yelling at his players and stuff. He's actually teaching them and making them better. He has his moments where he gets hype too. I like coaches like that. I just feel what Coach Lovie Smith is a really cool dude."
The main competitors for Illinois in this race were TCU and Oklahoma, but it looks like Avery will instead be heading north to join the Big Ten. As for Illinois, Avery is by far the highest-rated recruit they have in their 2018 class, which now has 12 commitments. However, their class still ranks in the bottom of the Big Ten as of press time.