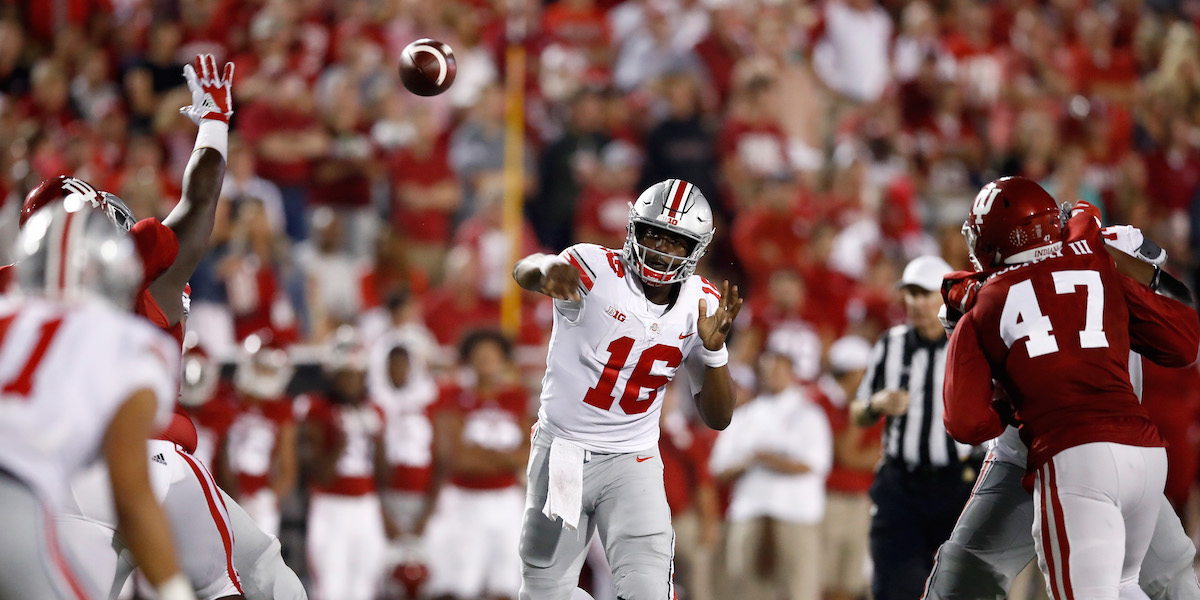 Andy Lyons/Getty Images
BLOOMINGTON, IN - AUGUST 31: J.T. Barrett #16 of the Ohio State Buckeyes throws a pass during the game against the Indiana Hoosiers at Memorial Stadium on August 31, 2017 in Bloomington, Indiana. (Photo by Andy Lyons/Getty Images)
The Indiana Hoosiers put a brief scare into the Ohio State Buckeyes in the 2017 season opener, taking a 14-13 lead into halftime and holding the advantage on the scoreboard deep into the third quarter. Urban Meyer and company did manage to pull away to the tune of a 49-21 victory but, for a moment, it seemed as though Indiana head coach Tom Allen had a strong plan to slow J.T. Barrett and the Ohio State offense.
After the game, Allen then reflected on his plan to stop Barrett and, via Brent Yarina of the Big Ten Network, also took something of a shot at the veteran signal-caller in saying he was "not an accurate quarterback."
"We try to do quite a bit of dropping, where we cover with eight, just because that's something that I feel like, with the quarterback like that, that's not an accurate quarterback, that's what you try to do."
Allen probably wants a re-do with regard to saying this publicly but, in the heat of the moment, the truth often bubbles to the top. Barrett has been criticized quite a bit in recent months for his lack of consistency and accuracy, meaning Allen isn't necessarily wrong with the way the team approached him defensively.
Still, a head coach taking a shot at a (very) famous player from the opposition after a loss isn't ideal at the college level and Allen will certainly be hearing about this one.