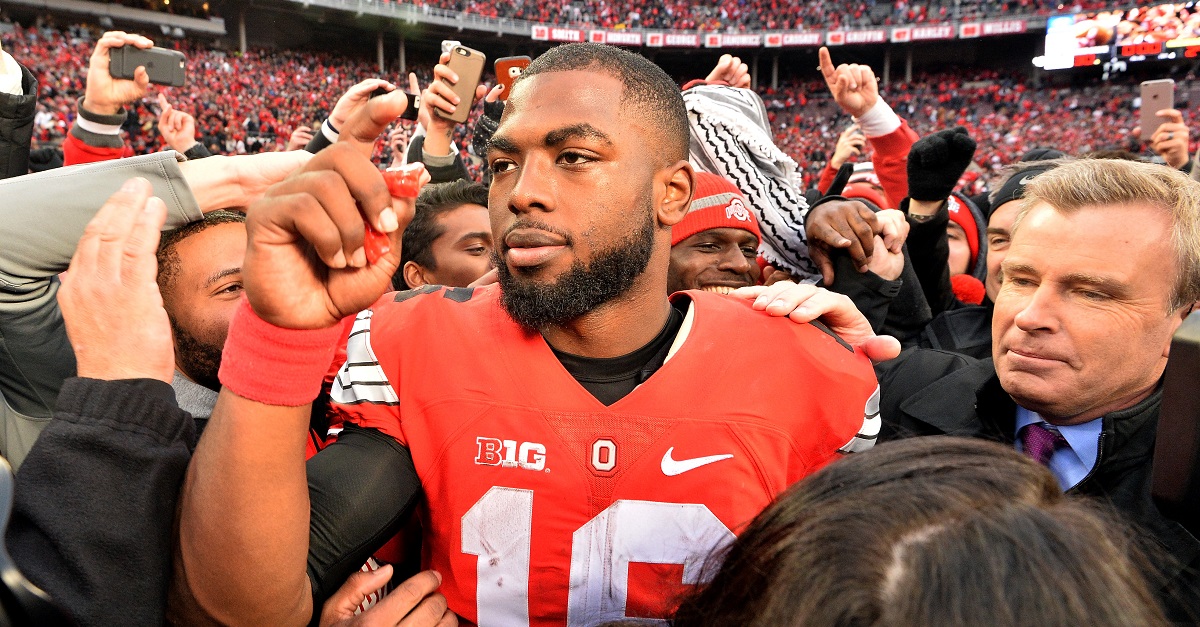 Jamie Sabau/Getty Images
COLUMBUS, OH - NOVEMBER 26: J.T. Barrett #16 of the Ohio State Buckeyes celebrates after defeating the Michigan Wolverines at Ohio Stadium on November 26, 2016 in Columbus, Ohio. (Photo by Jamie Sabau/Getty Images)
Earlier this week, Clemson safety Jadar Johnson was feeling pretty good about his team and especially his defensive teammates heading into the Fiesta Bowl game against Ohio State. He was so confident that he decided trash talking Ohio State quarterback J.T. Barrett was a good idea.
RELATED: Clemson defender fires questionable shot at Ohio State ahead of College Football Playoff tilt
Instead of retaliating with some of his own trash talk and maybe mentioning the Clemson defense failing against Pittsburgh, Barrett took the high road. He pretty much said he isn't too worried about the comments because he knows he's good and he doesn't need someone else's defense to tell him that.
Here's Barrett's full answer, via Eleven Warriors:
So I really wasn't – there wasn't a lot to it, I feel like. He has his own opinion, which I'm not mad at. I'm comfortable in my skills and what I'm able to do. If he feels like I'm not the best quarterback they went against, I mean, that's just how he feels.

I don't have a feeling towards that one way or the other. I mean, I'm okay, really. Like, it wasn't I feel like a lot to talk about. I saw what he said.

There's probably some people that feel like that in the media, which is cool, too. They have the right to their own opinion. It's not for me to fight my stance. I know how I feel about myself, comfortable in my skills and the guys we have on our offense and our team.

So that's how it is.
You can find the entire 13:28 of video here:
He went on to say that the last time someone trash talked the team — Oklahoma talking about OSU's "basic defense" — that team got trashed on the field. Surely the Buckeyes are hoping for a similar outcome to that Oklahoma game rather than what happened in the Orange Bowl in January 2014 when Clemson won 40-35 against Ohio State.
[h/t The Spun]