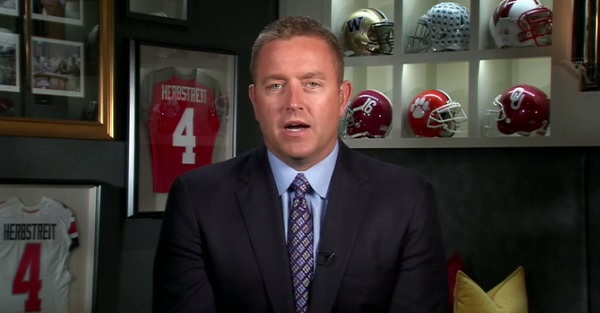 ESPN/Screenshot
ESPN/Screenshot
Well this was one of the more bizarre things to take place in college football this week.
After Ohio State's disappointing offensive performance against Oklahoma in Week 2, several people called on the team to make some sort of change either with the offense or even at quarterback with J.T. Barrett. That included a couple of Ohio State recruiting targets, who advocated that maybe it was time for former four-star Dwayne Haskins Jr. to get some reps at the position.
The comments didn't sit well with former Ohio State quarterback and longtime ESPN analyst Kirk Herbstreit, who thought that this wasn't the time nor place for the recruits to be making those comments.
While Barrett did have 304 yards and three touchdowns against Indiana in the opener, his completion-percentage for the first two games of the season sits at 55.7-percent, and the former Heisman candidate quarterback simply hasn't looked the same as he has in the past. Part of that could be that Barrett is now on his third offensive coordinator in his fourth season, with Tom Herman departing after the 2014 season, and Ed Warriner leaving after last season. Former Indiana head coach Kevin Wilson is currently serving as the Buckeyes' offensive coordinator.
Herbstreit has a point in that making such comments from a recruit's standpoint is really beneficial to no one. The kids currently don't have the benefit of being in the locker room, and while they may be supporting one of their friends, there could also be players on the team that support Barrett and aren't happy with these remarks coming from players that aren't even with the team yet.
[H/T The Spun]