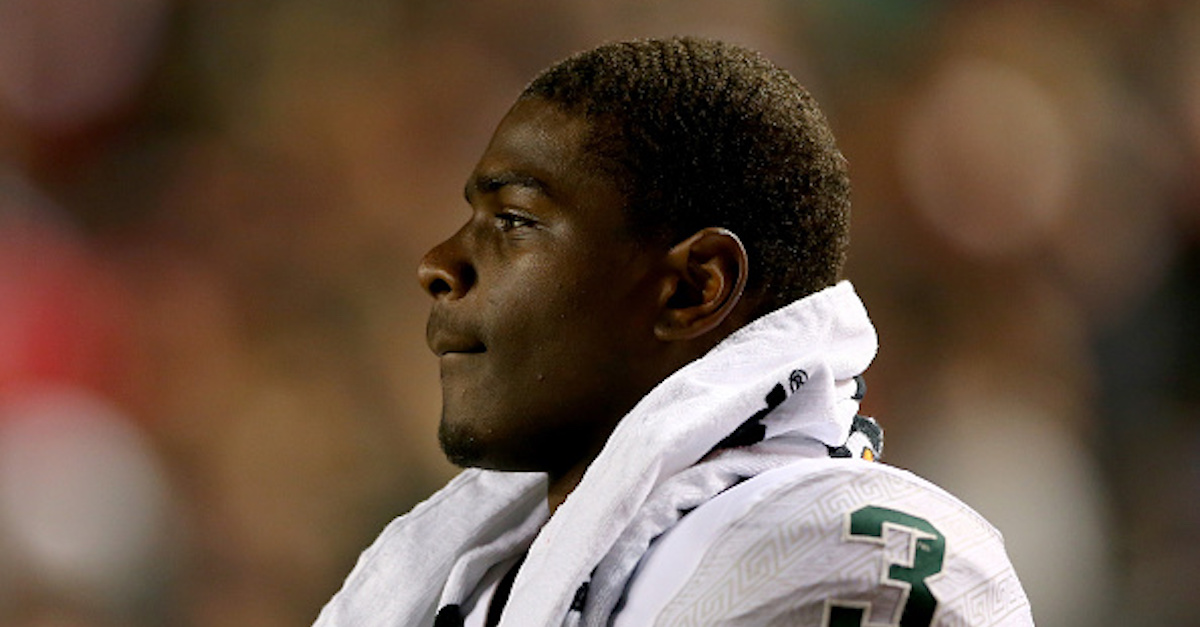 Elsa/Getty Images
PISCATAWAY, NJ - OCTOBER 10: LJ Scott #3 of the Michigan State Spartans looks on from the bench in the final seconds of the game against the Rutgers Scarlet Knights on October 10, 2015 at High Point Solutions Stadium in Piscataway, New Jersey.The Michigan State Spartans defeated the Rutgers Scarlet Knights 31-24. (Photo by Elsa/Getty Images)
It sounds like Michigan State running back LJ Scott needs to head on over to the DMV because according to reports, he's been arrested yet again for driving with a suspended license.
This is according to the Lansing State Journal, which is reporting that this is (at least) the seventh time that Scott has been charged with driving with a suspended license or a similar charge.
Here are a few more details from the report:
"Scott, 21, was arrested and later released on a personal recognizance bond, East Lansing Police spokesman Lt. Chad Connelly said Thursday. He declined to comment further because Scott has not yet been arraigned.

The charge carries up to a year in jail if Scott is convicted because he has at least one prior conviction on the same charge, which is typically a 93-day misdemeanor."
You've read that right, at 21-years-old and likely one of the more recognizable names in his area, Scott has already faced this, or a similar charge, nine times. His rapsheet as a driver is long and prolific. The Lansing State Journal profiled at least six other incidents, including three straight months in 2016 — February, March, and April — and an incident where he was originally charged with leaving the scene of a crash and driving without a valid license.
Scott was also pulled over by the Michigan State University Police for driving without headlights turned on after a party. In that incident, the running back admitted that a red solo cup in the center console of the car was his, but he passed a sobriety test. He was charged with driving on a suspended license and driving with an open alcohol container, but both charges were dropped when he plead to two counts of impeding traffic.
That's only a sampling of Scott's driving transgressions and one has to wonder if MSU head coach Mark Dantonio will step in after this one because the multiple charges don't seem to be changing Scott's poor driving decisions.
Scott, a 6-foot-1, 229-pound junior, has rushed for 408 yards and three touchdowns so far this season.