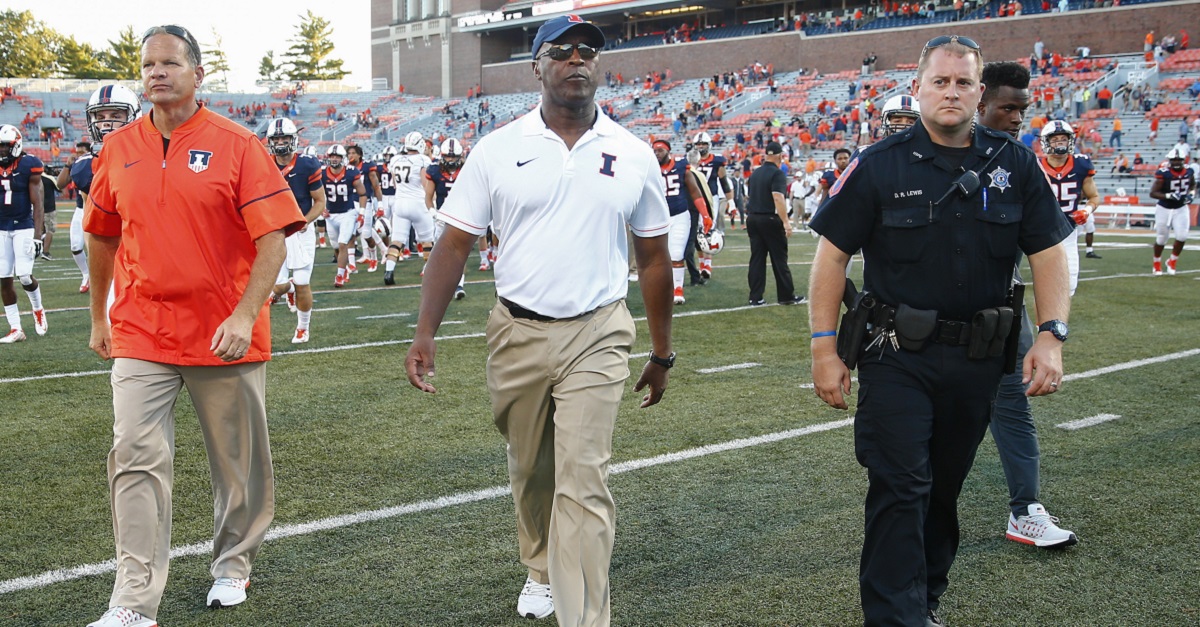 Michael Hickey/Getty Images
CHAMPAIGN, IL - SEPTEMBER 17: Head coach Lovie Smith of the Illinois Fighting Illini walks off the field after the game against the Western Michigan Broncos at Memorial Stadium on September 17, 2016 in Champaign, Illinois. Western Michigan defeated Illinois 34-10. (Photo by Michael Hickey/Getty Images)
There's never a good time to lose a job, but just two days before Christmas? That's brutal.
That apparently hasn't stopped Illinois Fighting Illini head coach Lovie Smith from making some moves on his staff, though. This, according to a report from footballscoop.com:
"Offensive coordinator Garrick McGee and defensive backs coach Paul Williams have been let go source tells FootballScoop."
That's a brutal move from Smith, just hours before Christmas Eve, but it's tough to dispute the fact that the move was warranted by the Illini.
Illinois had the second to the worst offense in the Big Ten this season, in front of only Rutgers. The Illini scored only 19.7 points per game. For context, Michigan led the Big Ten with 40.3 points per game and UCF led the nation with just under 50 points per game. The Illini rushing offense only 140.50 rushing yards per game, which was 13th in the Big Ten and the passing offense was ranked 11th in the conference.
Defensively, the Illini did give up only 185.9 yards per game through the air, good for No. 3 in the Big Ten, but that was apparently not enough to save Williams his job.
Now done with his second full season as head coach at Illinois, Smith has notched only a 5-19 overall record.
Perhaps he should fire himself.