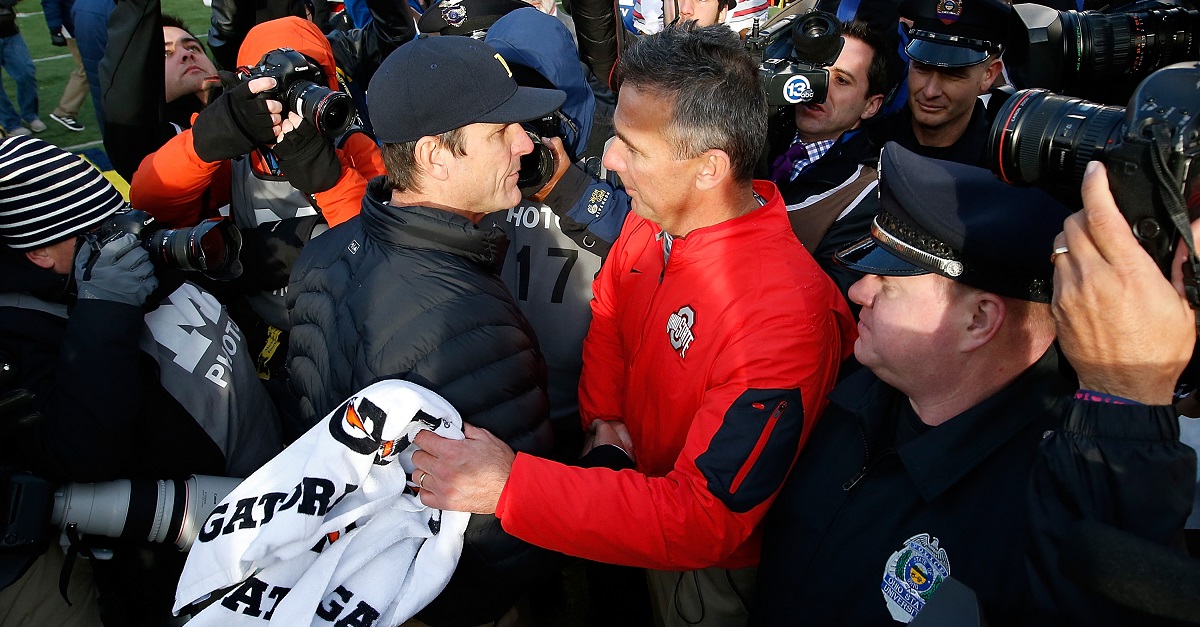 Gregory Shamus/Getty Images
ANN ARBOR, MI - NOVEMBER 28: Head coach Urban Meyer of the Ohio State Buckeyes shakes hands with head coach Jim Harbaugh of the Michigan Wolverines after a 42-13 Ohio State win at Michigan Stadium on November 28, 2015 in Ann Arbor, Michigan. (Photo by Gregory Shamus/Getty Images)
Michigan wideout Grant Perry was previously charged back in December with two counts of criminal sexual conduct in the fourth degree, one count of assault and battery of a police officer and one count of a minor in possession of alcohol. That earned him a suspension from the team, but it seems that coach Jim Harbaugh is fine with him coming back now despite a pending trial.
RELATED: Grant Perry suspended, facing sexual assault charges
?He?s back working out with the team,? Harbaugh confirmed, according to the Detroit Free Press. He also noted that Perry is expected back for fall camp even though he is expected in trial on June 17th as the Free Press reported. The trial was originally set for May, but it got moved back.
Perry caught 13 passes for 183 yards and a score last season but was suspended for two games in October for "disciplinary reasons" that have been linked back to the sexual assault incident. The wideout is somehow the top returning one for Michigan with his 23 career catches.
[h/t College Football Talk]