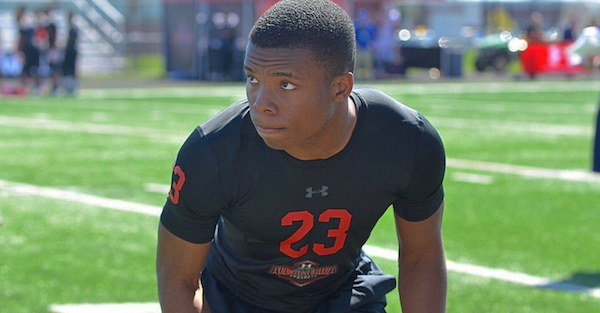 @KalonGervin/Twitter
@KalonGervin/Twitter
The recruiting saga for Kalon Gervin has been an interesting one. The prized recruit was once committed to play for Notre Dame but, after a short pledge in that regard, Gervin reopened his evaluation process to the point where a top six was in play as recently as October.
After a lengthy contemplation, though, Gervin has announced that he will be heading to East Lansing to spend his college career playing for Mark Dantonio and the Michigan State Spartans.
Gervin currently ranks as a top-200 recruit in the country in the Class of 2018 (according to the 247Sports composite) and the 5'11, 180-pound defensive back from Detroit also cracks the top 20 nationally among players at the cornerback spot. Beyond that, Gervin is the No. 2 overall player from the state of Michigan and, while that isn't the hotbed along the lines of Florida or Texas, many top prospects emerge from the Detroit area (Gervin hails from Cass Tech) on an annual basis.
In speaking with MLive.com, Gervin indicated that he is "just ready to come in and compete" and that he "wants to help everyone win championships" upon arrival in East Lansing. That will be a tall task in the crowded Big Ten East but the Spartans add a potential impact player here and this is a significant win for Dantonio and his staff.