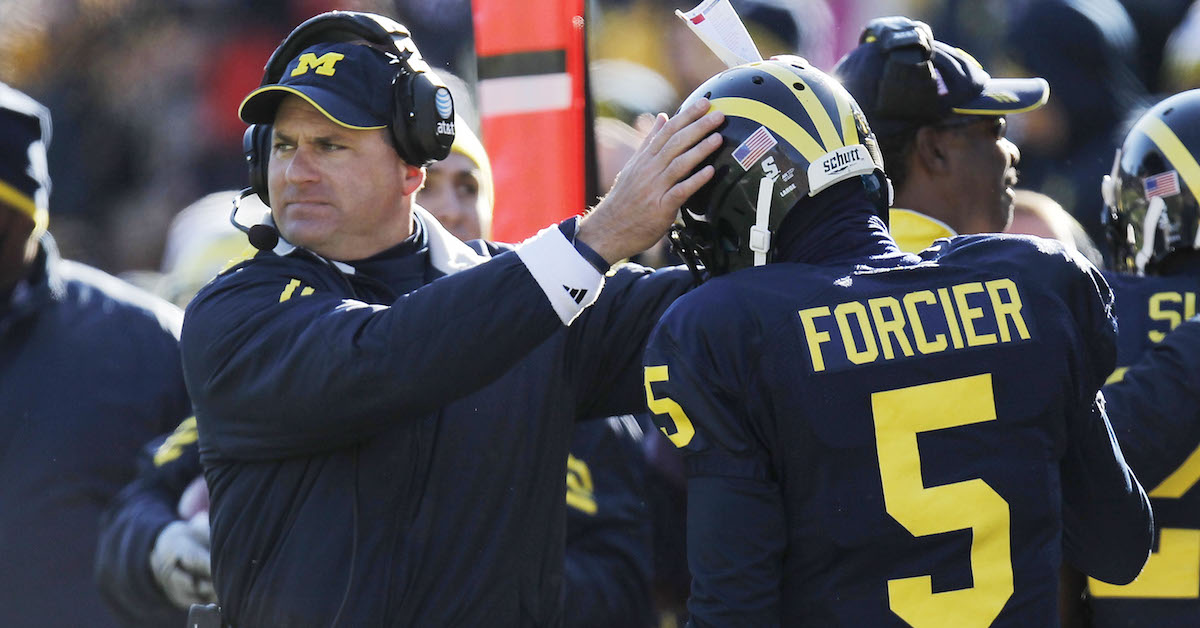 Tate Forcier at Michigan Stadium on November 6, 2010 in Ann Arbor, Michigan. Photo credit: Gregory Shamus/Getty Images
The year is 2009 and Michigan QB Tate Forcier is a Heisman Trophy candidate.
No, really, he was.
The Wolverines exploded out of the gate that season, starting 4-0, and Forcier's "breakout" moment came in a win over Notre Dame. The then-freshman completed 23 of 33 passes for 240 yards and two touchdowns in the game, and Forcier used his mobility to generate 70 yards (on 13 carries) and an additional touchdown on the ground.
Following that performance and until his numbers leveled off, Forcier was actually included in various Heisman rankings (an example from ESPN), and he was the "next big thing" at quarterback for Michigan. By now, you likely know that the story didn't end as planned.
Forcier was supplanted by Denard Robinson as the starter for the 2010 season, appearing in only eight games, and he transferred to San Jose State (after a brief flirtation with Miami) as a result. The now 25-year-old never played college football again, but fortunately, Forcier appears to have landed on his feet.
Via his Facebook page, Forcier had this to say about his immediate future:
It's football season and I can't be more excited. First time OC/QB coach at Serra High School in San Diego. Can't wait to coach these athletes I have! Receiving core says D1 across the board. I have a QB who can get them the ball. Couldn't be more excited to share my knowledge and experience with this team.
The hype has vanished over six years, but it was a lot of fun to watch Tate Forcier during that opening stretch as a freshman. For some, though, he will act as a cautionary tale of the hype machine that surrounds college football.