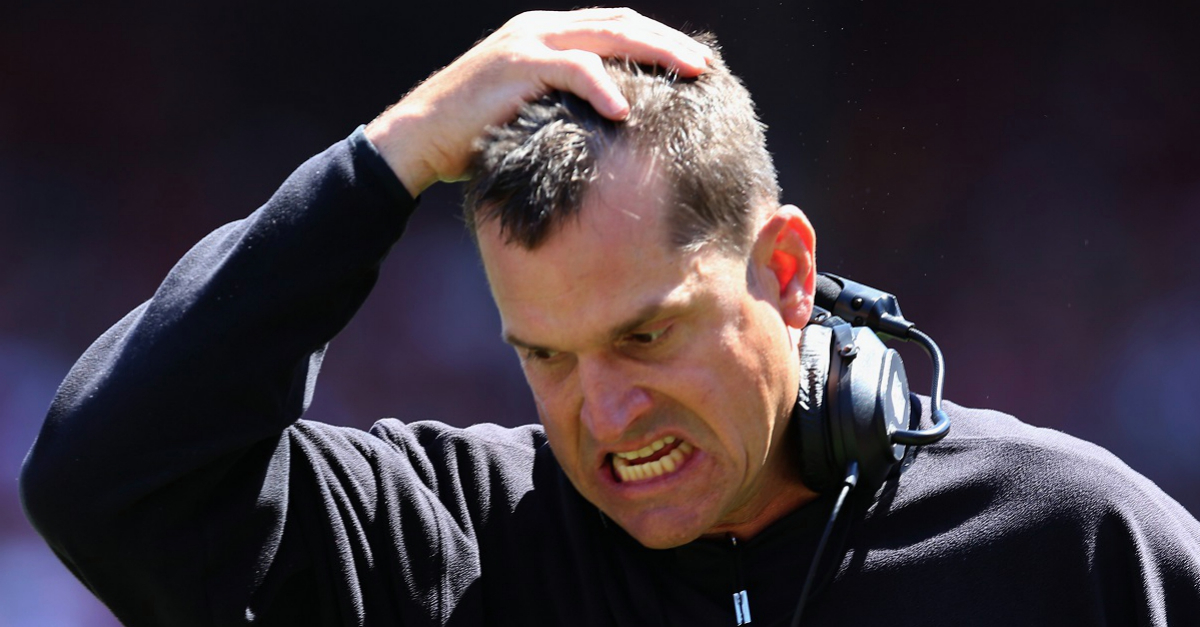 Jeff Gross/Getty Images
Photo by Jeff Gross/Getty Images
This isn't the Playoff rankings, but this could be an interesting sign of things to come.
After Michigan's loss to Ohio State, they fall to No. 6 in the newest Coaches Poll, below fellow two-loss team Wisconsin.
The interesting part there? Michigan beat Wisconsin earlier in the season.
Other notable things in this week's poll: Oklahoma is still ahead of Penn State and Colorado, suggesting that voters could be extremely high on the Sooners if they beat Oklahoma State this upcoming weekend. If some chaos happens at the top of the poll, Oklahoma could still have a shot if the Playoff rankings are similar to this one.
The full poll:
1. Alabama (64)
2. Ohio State
3. Clemson
4. Washington
5. Wisconsin
6. Michigan
7. Oklahoma
8. Penn State
9. Colorado
10. Oklahoma State
11. USC
12. Florida State
13. West Virginia
14. Western Michigan
15. Louisville
16. Florida
17. Stanford
18. Virginia Tech
19. Auburn
20. Navy
21. LSU
22. Nebraska
23. South Florida
24. Utah
25. Iowa
Also receiving votes: Boise State, Houston, Washington State, Texas A&M, Miami (FL), Temple, Tennessee, San Diego State, Air Force, North Carolina, Georgia Tech, Minnesota, Tulsa, Appalachian State, Western Kentucky, Wyoming, Middle Tennessee, Troy