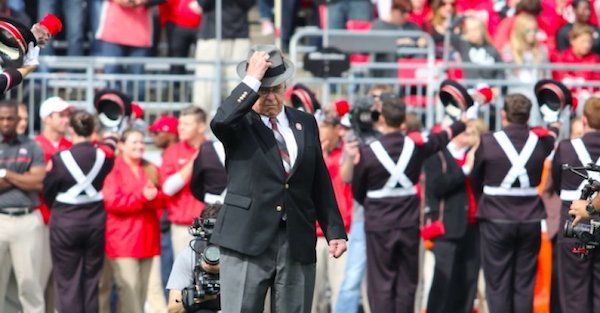 @BUCKEYESNO1/Twitter
Former Ohio State coach Earle Bruce has reportedly been diagnosed with early stages of Alzheimer's, according to 610 WTVN in Columbus' sports director Matt McCoy.
Bruce, a College Football Hall of Famer, coached at Ohio State from 1979-87 and led the Buckeyes to four Big Ten championships. He was also the Big Ten and AFCA Coach of the Year in 1979.
Bruce finished his college coaching career with  a 154-90-2 overall record, which included going 81-26-1 at Ohio State. He also coached several Arena Football League and indoor teams from 1994-96 and 2003-04 including the Cleveland Thunderbirds, St. Louis Stampede, Iowa Barnstormers and Columbus Destroyers.
Bruce also played fullback at Ohio State as a freshman in 1950, but suffered a torn meniscus that ended his playing career the following season. He joined Woody Hayes' coaching staff as an assistant immediately after and held the position until his graduation in 1953.