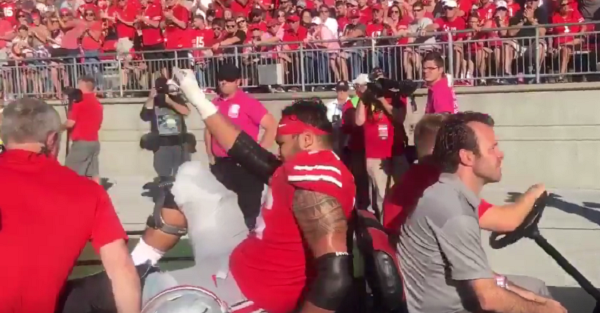 @jamesekingii/Twitter
@jamesekingii/Twitter
Much of Saturday's game between Ohio State and Maryland went (very) well for the Buckeyes. Urban Meyer and company were never challenged on the way to a 62-14 win and, given that Maryland has showed signs of improvement, it was quite an impressive performance for the Buckeyes.
However, there was one hiccup for Ohio State and it came in the form of an injury to starting offensive guard Branden Bowen. In the first quarter, Bowen left the game with a leg injury and television cameras caught him exiting the field with an air cast on his leg.
News that Bowen was forced to leave in an ambulance is, quite obviously, unfortunate but he did take to Twitter to assuage fears from the Ohio State fan base.
Sadly, Bowen's mother did confirm that her son will need surgery to address multiple fractures in his leg.
Bowen later said that he had successful surgery.
Ohio State has question marks along the offensive line and, while Bowen is not necessarily a star in the present, it is never a good thing to lose a starter for a long period of time. It will be interesting to see how Meyer and his staff address the injury but we now know that Bowen won't be back anytime soon.
[h/t The Spun]