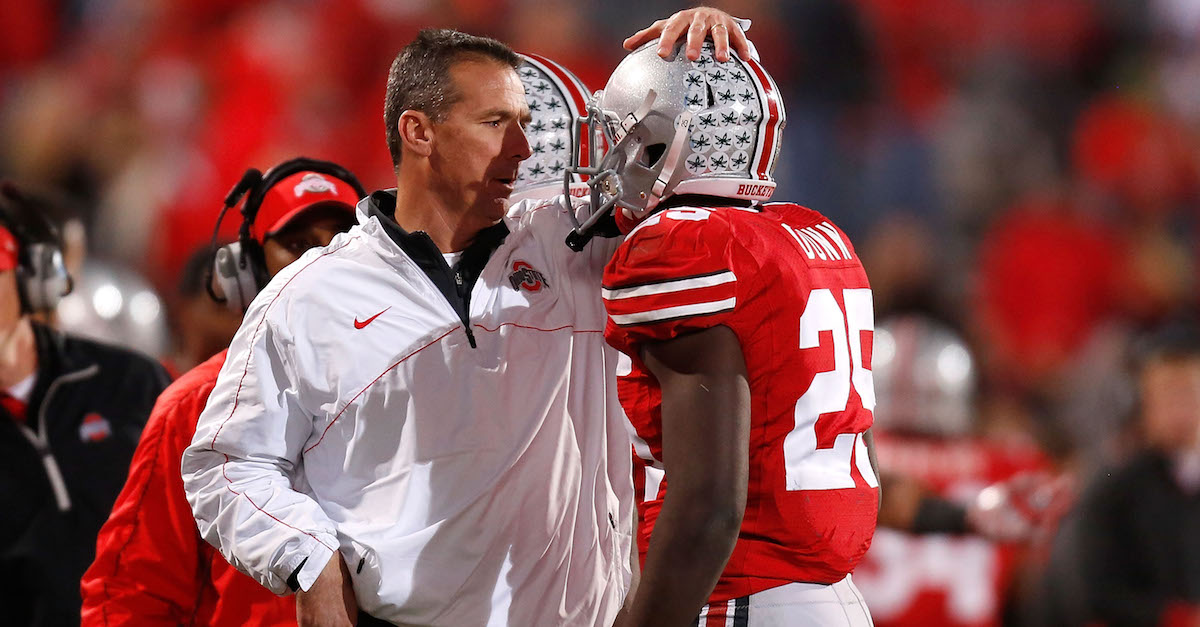 Kirk Irwin/Getty Images
COLUMBUS, OH - NOVEMBER 3: on November 3, 2012 at Ohio Stadium in Columbus, Ohio. Ohio State defeated Illinois 52-22. Photo by Kirk Irwin/Getty Images
Former Ohio State running back Bri'onte Dunn was arrested on rape and kidnapping charges related to an incident near campus on Wednesday afternoon, according to multiple reports.
According to Franklin County Municipal Count documents, the 24-year-old allegedly held down the victim and then forced her to have sex with him, which occurred about 6 a.m. on August 20.
Dunn reportedly called the victim at 4:15 a.m. to ask for a ride and went with her to her place of residence and went to bed. About 15 minutes later, the former running back got into the victim's bed and forced sexual acts upon her, according to the documents. The victim was taken to Grant Hospital and reported the assault shortly after, according to the documents.
Dunn plead no contest to the assault and was later placed on probation in February.
The former running back had previously been accused of repeatedly striking a woman in the head and face in July 2016. He was dismissed from the Ohio State football the next day.
According to the Columbus Dispatch, Dunn was involved in an alleged altercation with his girlfriend back in July of 2016 that resulted in a civil protection order being filed against Dunn on Monday. The Dispatch also cites a 911 call from Sunday, where a woman claims that her boyfriend hit her and caused injury.
Sunday afternoon, the woman, crying uncontrollably, called 911 to say: "My boyfriend hit me really bad."
The woman said that the man struck her in the mouth and then briefly left her apartment on the Northwest Side. She said she left the apartment and came back, and when he saw she had her phone out "he went crazy." She said he then choked her and left.
"My lip is bleeding and I have a black eye," the woman said.
Dunn was a rising senior for the Buckeyes before his dismissal. He was in the competition at running back to replace the Ezekiel Elliott as the team's starter. Elliott was taken No. 4 in the 2016 NFL Draft by the Dallas Cowboys.
Dunn rushed for 287 yards and three touchdowns during his career at Ohio State.