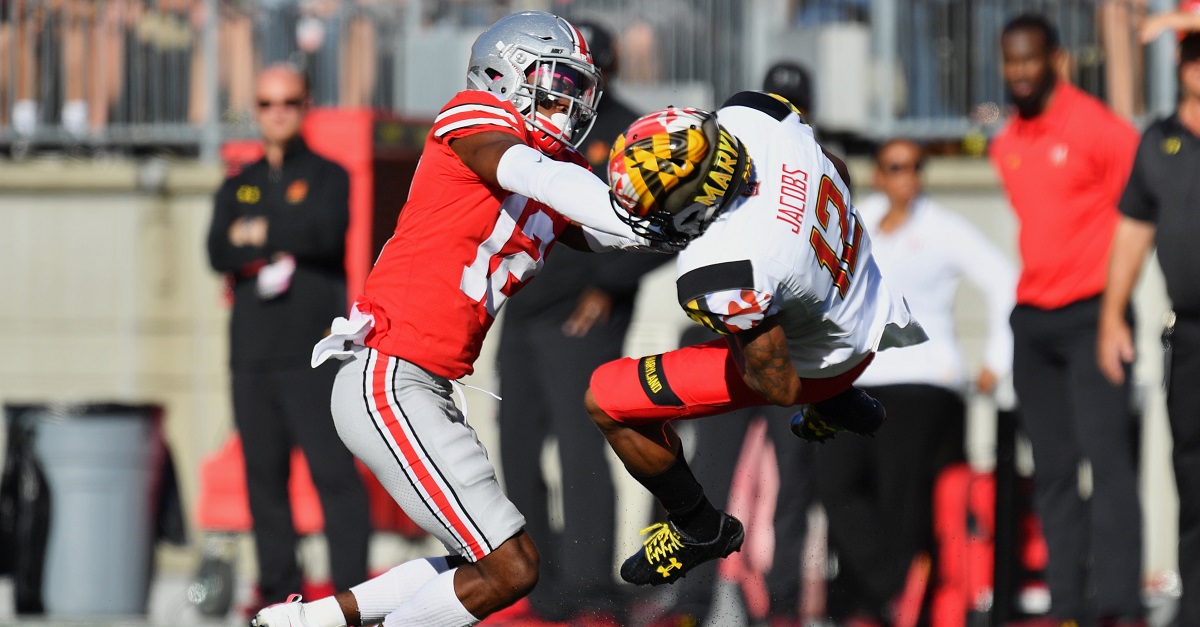 Jamie Sabau/Getty Images
COLUMBUS, OH - OCTOBER 7: Denzel Ward #12 of the Ohio State Buckeyes hits Taivon Jacobs #12 of the Maryland Terrapins after a reception in the first quarter at Ohio Stadium on October 7, 2017 in Columbus, Ohio. Ward was ejected from the game after being assessed a targeting penalty for the hit. (Photo by Jamie Sabau/Getty Images)
The Big Ten is admitting a pretty big mistake it made in the Ohio State-Maryland game, and it's not that the Terps shouldn't be in the conference to begin with. Buckeyes defender Denzel Ward laid the boom on a Maryland receiver and erroneously was ejected for a targeting call.
Here is the hit in question:
After further review, officials deemed the hit as targeting, despite Ward not launching himself and the hit looking completely clean with arms extended into Jacobs' chest.
Even if this was flagged on the field as a targeting, the crew can go back and review to make sure the call is right. The fact that the review yielded no overturning of the flag thrown is really what should make people irate because that means another set of eyes saw the play in slow-motion and in real time and still deemed it a targeting.
This is absolutely a rule that needs to officiated and reviewed better as it not only can lead to egregious calls like this one, but has also led to major injuries occurring. That's because certain hits weren't stopped or players weren't ejected when they should have been in games because replay officials didn't call for a replay on a potential targeting and officials on the field didn't throw their flags from the start.
[h/t Saturday Tradition]