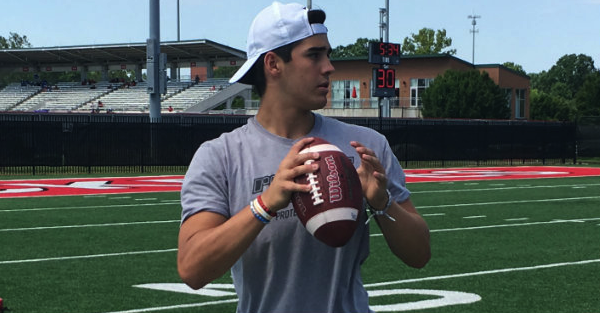 Bill Kurelic/247Sports
Jack Miller may not be a household name to the casual college football fan just yet, but the 2020 quarterback prospect is very well known to those inside the sport. That is the nature of being the No. 1 prospect at the position in his class and the 6-foot-4, 210-pound quarterback from Scottsdale (Ariz.) is generating all kinds of recruiting interest.
The latest from Miller actually comes from his father, Jack Miller Sr., in speaking with Bill Kurelic of 247Sports. In short, Miller isn't quite ready to name a top three but, if he did, the Ohio State Buckeyes would be prominently featured.
"If he named a top three Ohio State would lead the way. Ohio State is at the top of his list."
It is still (very) early in the process but Miller Sr. shed some light on plans for his son to visit Columbus in the very near future.
"We are trying to get to Ohio State for the Penn State game. He is excited about getting back up there. We are trying to figure out how we can make it work with his game (that weekend). Right now, we would arrive around 2:30 pm and the (Penn State) game starts at 3:30. We are just trying to figure out how we can do it. If for some reason we can't make the Penn State game, we will get to another game."
While Miller Jr. is not a five-star composite prospect just yet — probably due to these rankings being so early in the scouting process — the sky is the limit for his talent and, even two years ahead of time, the buzz is palpable. Ohio State is always a big player on the recruiting trail and, with this quarterback, things seem to be going well.