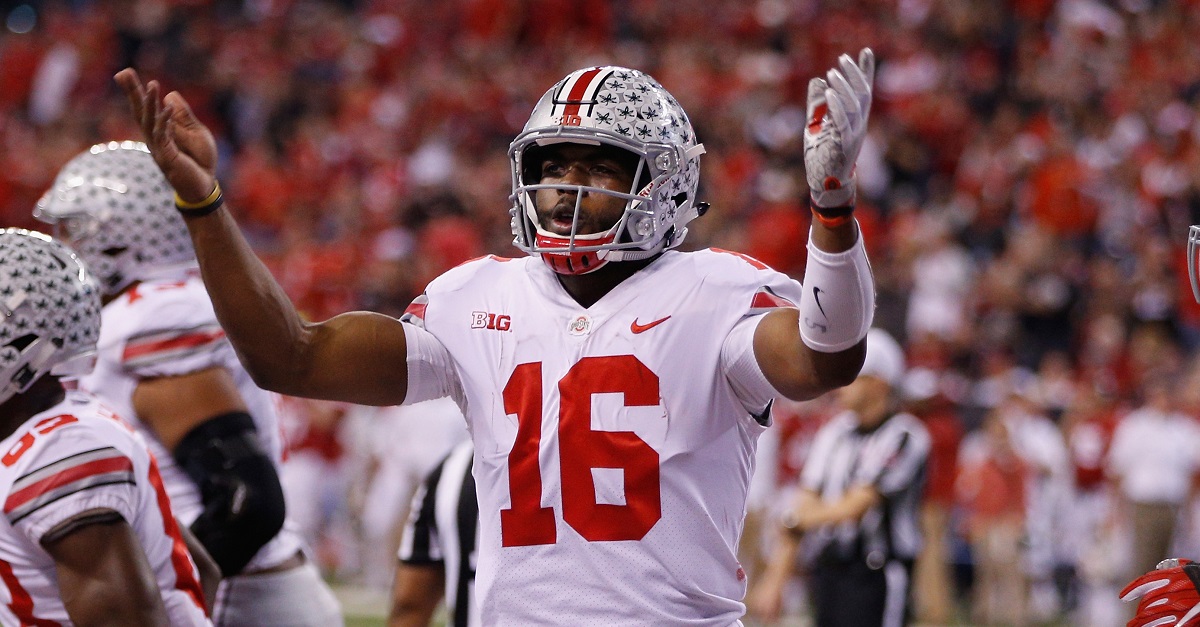 Joe Robbins/Getty Images
Joe Robbins/Getty Images
ESPN draft analyst Mel Kiper isn't high on former Ohio State quarterback J.T. Barrett's draft potential.
In fact, Kiper doesn't seem to think Barrett will be drafted at all, pegging him as "an undrafted free agent."
Barrett is one of the most decorated quarterback prospects entering the 2018 NFL Draft, having led Ohio State to a 38-6 record in 44 career starts.
He also started in the majority of the Buckeyes' games during their 2014 College Football Playoff National Championship season as a redshirt freshman, prior to suffering an injury during the team's final regular season game.
Barrett threw for 9,434 yards, 104 touchdowns and 30 interceptions, while also rushing for 3,263 yards and 43 scores on 656 attempts.
Still, Kiper isn't the only one questioning whether the former Buckeye can make a successful transition to the professional level.
NFL.com projected Barrett as a seventh-round/projected free agent "who has benefitted from playing with NFL talent around him all four years."
Here's the full "bottom line" analysis on the quarterback:
"Dual-threat quarterback who has benefitted from playing with NFL talent around him all four years. Barrett is a natural leader with the ability to hurt defenses with his feet or with his arm on any given play, but he needs to improve his ball placement and approach in attacking coverage. Barrett's character, competitiveness, and ability in short-yardage situations give him a shot to compete for a roster spot as a package-based quarterback while he continues to try and improve as a passer."
Only time will tell if a team takes a chance on Barrett during the NFL Draft in April.