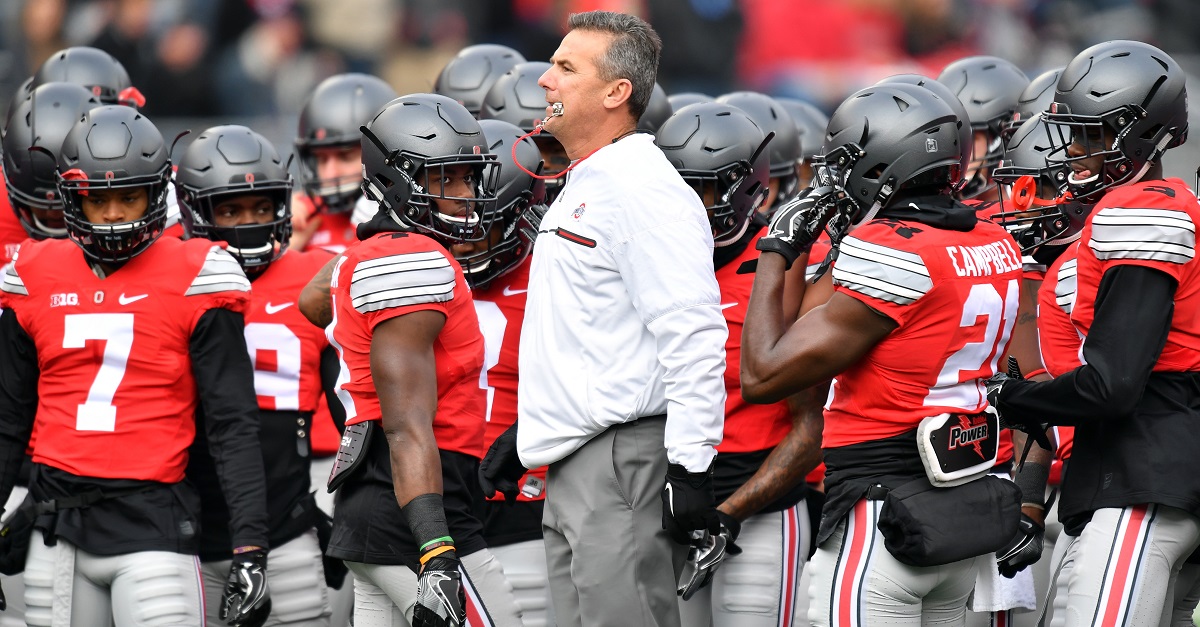 Jamie Sabau/Getty Images
COLUMBUS, OH - NOVEMBER 26: Head coach Urban Meyer of the Ohio State Buckeyes warms up his team on the field prior to the game against the Michigan Wolverines at Ohio Stadium on November 26, 2016 in Columbus, Ohio. (Photo by Jamie Sabau/Getty Images)
Things did not go well for Urban Meyer and the Ohio State Buckeyes over the weekend. Riding high on the heels of a massive, come-from-behind victory over rival Penn State, the Buckeyes seemingly had a clear path to the Big Ten Championship Game and, by proxy, a real chance to reach the College Football Playoff.
Then, the wheels came flying off the wagon.
Ohio State was unceremoniously trounced by the Iowa Hawkeyes, allowing an inconceivable 50-plus points and basically operating in non-competitive fashion for the great majority of the afternoon. On the heels of that victory, most of the Buckeyes' season-long goals are likely unreachable but that did not stop another Ohio State team from firing a shot in the direction of the football squad and its head coach.
The good folks at College Football Reddit unearthed the Ohio State women's water polo team coming in with heat against Meyer. This probably accomplished the cheap laugh that was intended but, at the end of the day, it is a pretty bad look for a fellow Buckeyes team to operate in this way.
As a result, the account has seemingly gone private to avoid scorn but nothing on the Internet is written in erasable ink. This isn't the biggest deal in the world but it does speak to the spite that likely took place in Columbus over the weekend.