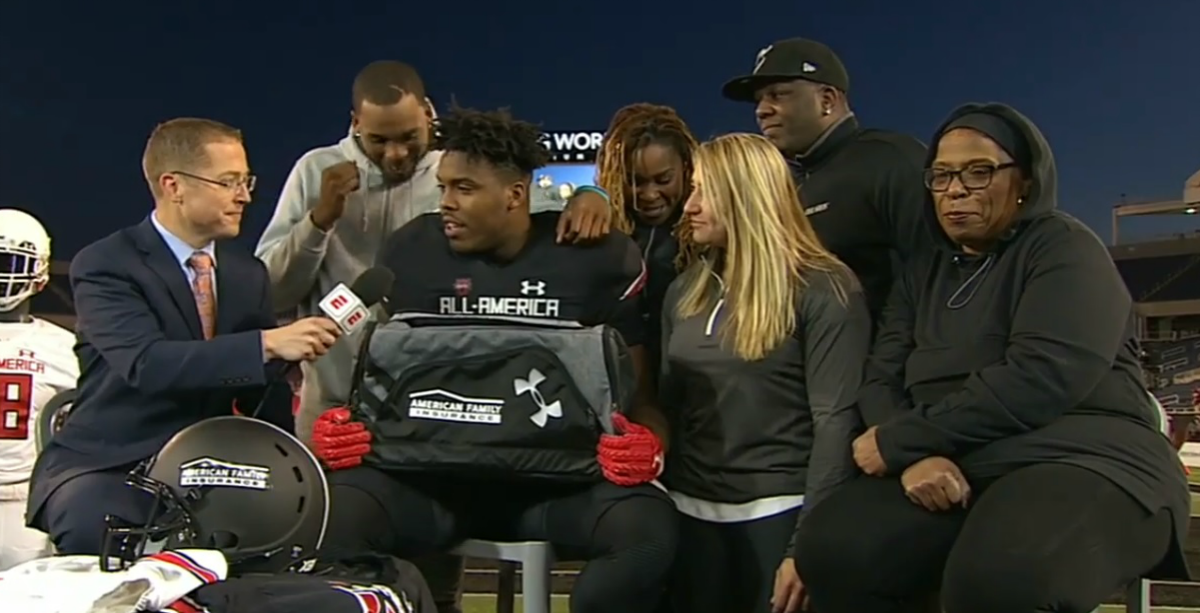 @THE_BOOMSTEIN/Twitter
@THE_BOOMSTEIN/Twitter
The Ohio State Buckeyes are already making good on the recruiting trail, landing four-star defensive end Tyreke Smith during the Under Armour All-America Game.
Somehow, while still presumably being on the field, Smith tweeted this out:
Impressive skills, in my humble opinion.
A 6-foot-3, 260-pound defensive send, Smith is considered the fourth-best weak-side defensive end and No. 60 prospect overall in the Class of 2018 according to the 247Sports Composite rankings.
He picked Ohio State over finalists Alabama, Oregon, Penn State and USC.
Mac Stephens, Smith's high school coach, recently told Eleven Warriors what the lineman brings to the table:
?The biggest thing was getting a better understanding of the game,? Cleveland Heights head coach Mac Stephens told Eleven Warriors. ?His junior year, he was just playing on pure athletic ability, whereas his senior year, it was more about understanding how teams were attacking him. His junior year, nobody knew who he was, really. And then his senior year, he was getting double-teamed and sometimes triple-teamed. He had to learn how to recognize those things.?

?[He excels most at] getting after the quarterback. He has an inate ability to put pressure on the quarterback position,? Stephens said. ?He's hard to block one-on-one, and I think ? even on the college level ? it'll be difficult to block him. He's just so physically gifted, he's quick for his size and he has a very good get off on the ball. But once he learns how to utilize his hands and feet, I think he's going to be unstoppable.?
That's some awesome praise coming by way of his former coach. Then again, it isn't like his coach would go out of his way to trash him to some outlet.
Nevertheless, just remember kiddos, the numbers of stars attached to a kid's name doesn't inherently mean greatness awaits. Also, it might take some time before that greatness, if it does indeed exist, becomes evident.