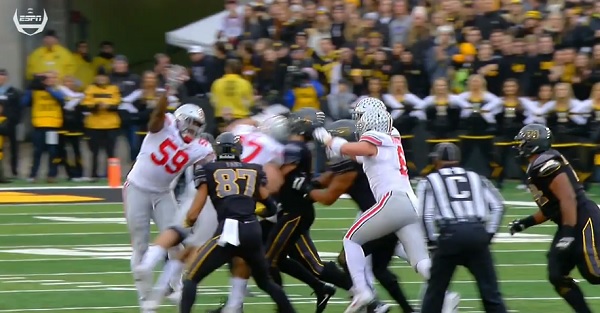 Clippit/Screenshot
This could prove to be a big loss for Ohio State.
In the first half of Ohio State's game against Iowa on Saturday, defensive end Nick Bosa was ejected for targeting after making contact with Iowa quarterback Nate Stanley.
While the hit from Bosa didn't have an excess of force like a lot of targeting hits do, it did meet the textbook definition with Bosa launching and then making contact with the crown of his helmet.
Bosa, a former five-star recruit and the younger brother of current NFL player Joey Bosa, has perhaps been Ohio State's best defensive player so far this season. The sophomore Bosa entered the game leading the Buckeyes in both tackles for loss (10.0) and sacks (4.0).
The loss could prove to be a big one; the game was tied at 17 at the time of Bosa's ejection, and Iowa scored twice before halftime to take a 31-17 lead over the Buckeyes.