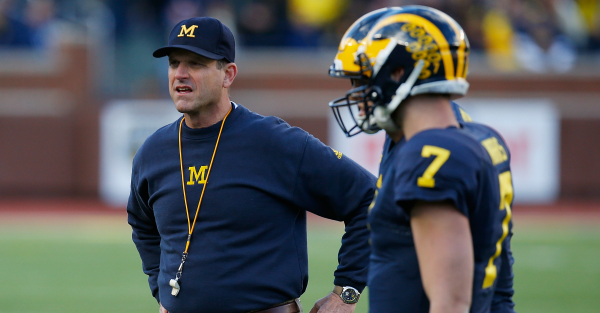 RELATED: Finebaum is comparing Harbaugh to politicians now
________________________________________________________________________________________________________
Paul Finebaum has no problem taking shots at every conference outside of the SEC. He ripped apart the Big Ten for its weak scheduling this past season and has had quite a few issues with Michigan coach Jim Harbaugh as well. He took another shot at the coach with a rather long two minute rant. Here it is via Saturday Tradition:
"So once again, Jim Harbaugh has hijacked college football. I think he has been an entertaining entrant to college football since he arrived in Michigan a year-and-a-half ago. Entertaining…that was then. I find him growingly and increasingly annoying now. From entertaining to annoying is quite the drop-off but what he has done (Tuesday) really pushes this story from interesting, to entertaining, to just downright ridiculous.

"He used some language in his interview with Sports Illustrated talking about helping thousands and thousands of kids. That simply doesn't make a lick of sense. His satellite tour was groundbreaking, but it was also about Jim Harbaugh. It was about promoting the brand of Michigan football, but mostly, 'Look at me, I'm Jim Harbaugh. I'm taking my shirt off. I can come into Nick Saban's backyard.'

"But not once did he ever beat Saban for a player, did he ever beat Hugh Freeze for a player, or Butch Jones, but that hasn't stopped him from taking cheap and unnecessary shots at Butch Jones, like he did a few weeks ago. But the shot at Hugh Freeze today really takes the cake. He made fun of Hugh Freeze for saying that he wanted to spend more time with his family. Now that's really something to be making fun of — a man who loves his wife and his kids who actually enjoys being with his family.

"And by the way, when Jim Harbaugh was in Bradenton, Florida a couple weeks ago at the IMG camp, mugging for the cameras, you know where Hugh Freeze was? He was in Haiti, helping people who really need help. He was helping the underprivileged, those who have no chance in the world. He was trying to give them a little more opportunity, as he has done every year, as he has done everywhere.

"Jim Harbaugh is all about Jim Harbaugh, and that's fine, but I think it's finally caught up to him. And I think he has gone from the most entertaining person in college football to the most annoying. I for one, am really getting sick of him."
Good thing Finebaum doesn't hold back or anything or we'd never know his true feelings about the Wolverines coach. I hope Harbaugh can come back from that sick burn. It's not like he's getting paid millions of dollars to have one of the best jobs in college football or anything.