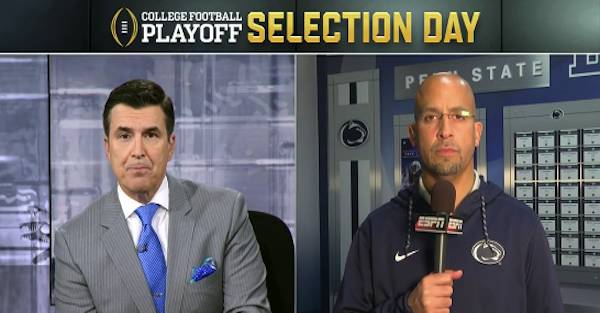 Clippit screenshot
Despite a late push to get into the College Football Playoffs, the selection committee left the Penn State Nittany Lions on the outside looking in, as Alabama, Clemson, Ohio State and Washington made the final four.
After watching his team move up to No. 5, James Franklin spoke on the College Football Playoff selection show and attempted to put on a smile despite the obvious disappointment.
"Our guys would have obviously loved to have been in the playoff, but they're also excited about the opportunity to play in a big bowl game," said Franklin during an interview on the CFP selection show Sunday afternoon, via CBS.

"We've had a great year — I'm really proud of our guys. Yeah, they would have loved to have been in the playoffs, but we're still very, very appreciative and honored for the opportunities that we have."
Penn State, which beat Wisconsin to win the Big Ten title game on Saturday, was left out in favor of an 11-1 Ohio State team that didn't make the conference title game. Penn State does have a win over Ohio State, but it looks like the losses to Pitt and Michigan were too much to overcome.
Penn State will head to the Rose Bowl, where there is definitely going to be some extra motivation to walk away with the win after falling just short.