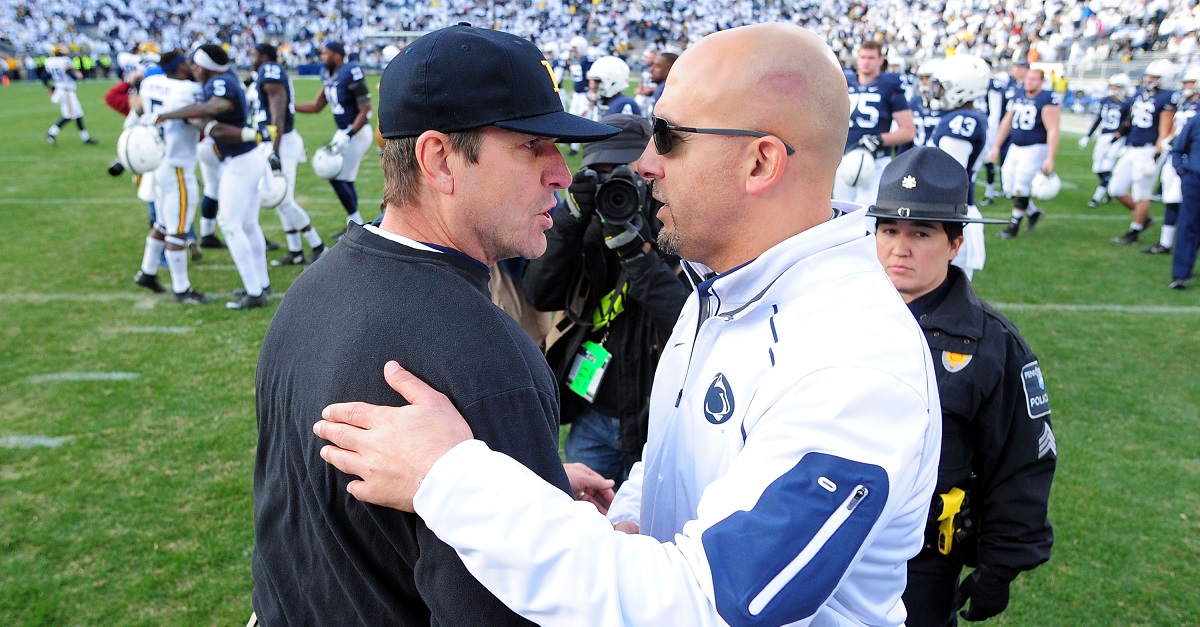 Evan Habeeb/Getty Images
STATE COLLEGE, PA - NOVEMBER 21: James Franklin head coach of the Penn State Nittany Lions congratulates Jim Harbaugh head coach of the Michigan Wolverines after the game at Beaver Stadium on November 21, 2015 in State College, Pennsylvania. The Wolverines won 28-16. (Photo by Evan Habeeb/Getty Images)
The Penn State Nittany Lions put together a fantastic season in 2016. While the program fell short in a wildly exciting Rose Bowl match-up against USC, the Nittany Lions emerged as Big Ten champions after a red-hot streak to finish the campaign and James Franklin helped to guide the program to 11 victories in a season that many did not see coming.
On the heels of that performance, Franklin has been handsomely compensated according to a report from Bruce Feldman of Sports Illustrated.
Feldman brings word of a massive contract extension worth nearly $6 million annually and, if true, this would immediately rocket Franklin into the top five when it comes to highest paid coaches in the sport. It is fair to say that Franklin's new deal would not necessarily place him in the same stratosphere as Alabama's Nick Saban and Michigan's Jim Harbaugh in terms of compensation but, in the same breath, the Penn State head coach is being paid like an uber-elite coach.
In some ways, Franklin's ascent seemed very unlikely even a year ago but the impact of an 11-win campaign at a place like Penn State is immeasurable. It remains to be seen if he can build on that level of success but James Franklin is now firmly entrenched at the helm in Happy Valley.