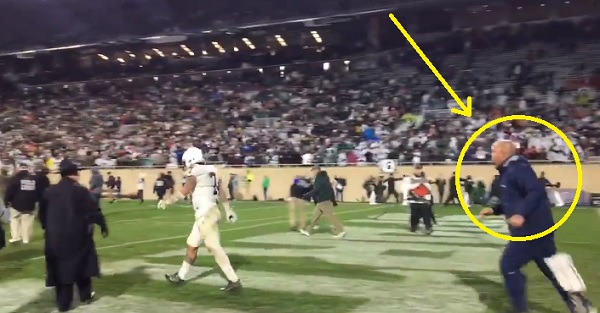 OnwardState/Twitter
It's never easy to lose. It's even harder to lose when you're team is the favorite and now on a two-game losing streak, but that's exactly the situation No. 7 Penn State found itself in after a loss to No. 24 Michigan State
Heading into the contest Penn State was still the major favorite, this despite the fact that the game was in East Lansing and the Nittany Lions were coming off a 39-38 loss to Ohio State. Last weekend's was a close loss against a good team, and PSU still boasted Heisman hopeful running back Saquon Barkley and one of the best coaches in college football right now, James Franklin, so to the Nittany Lions were expected to bounce back.
Except it didn't happen. Michigan State ended up winning 27-24 on a last-second field goal. It was a game that saw both teams suffer from a lengthy weather delay and ultimately, Michigan State just made that one extra play.
Good on the Spartans, but for the Nittany Lions, the last-second field goal spelled heartbreak. It was a long, rainy, cold day in East Lansing for PSU, but when Franklin's players started running to the locker room in an effort to get into the heat and away from the disappointment of the loss, Franklin the head coach wasn't having it.
Running better than Barkley on the day — who rushed for only 63 yards on 14 carries — Franklin sprinted after his players and directed them back to the field to pay their respects to Michigan State.
Recounting that moment later on with the media, Franklin relayed that he expects his team to lose with class and that MSU deserved the respect.
"Don't misinterpret at the end of the game that I was running off the field. I would never do that. I saw a few of our players running off the field and not going to shake hands. We are going to win with class and we are going to lose with class, and we're going to shake peoples hands and give them credit because they deserved it."
Penn State was once thought of as a potential College Football Playoff team. Now with two losses to ranked teams in a row the 7-2 Nittany Lions will have to fight to make it to the Big Ten Championship this season.