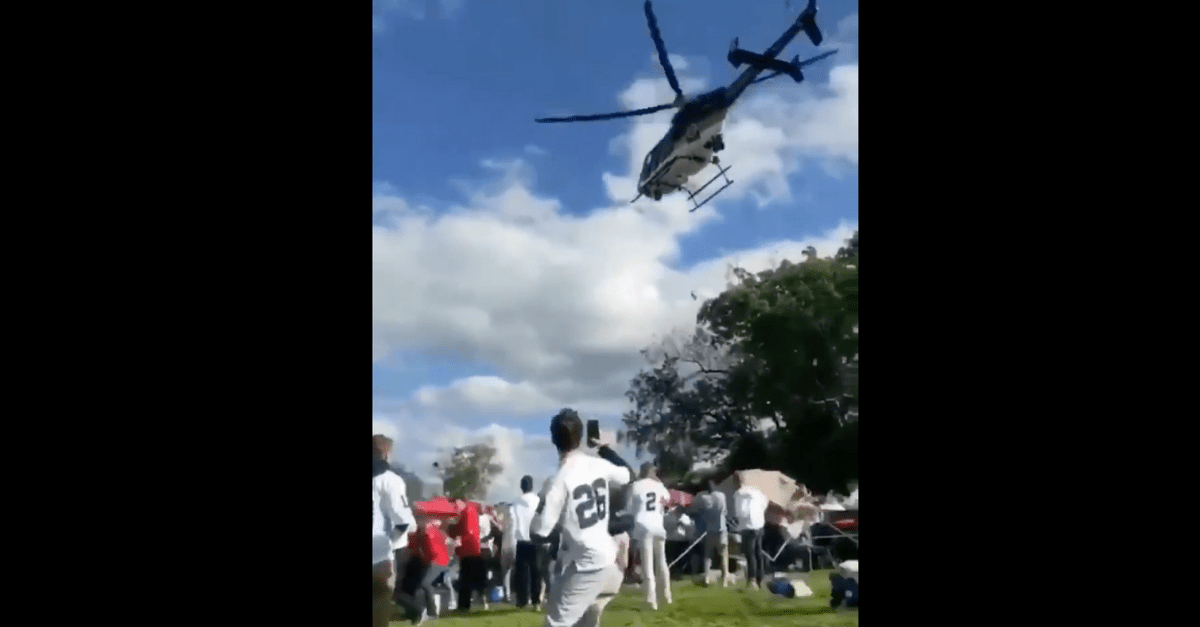 Twitter: PSUBarstool
Twitter: PSUBarstool
College football tailgates are either famous for their tradition or infamously known for heavy drinking and disorderly conduct. At Penn State University, home to one of college football's largest home crowds outside Beaver Stadium in State College, things can escalate pretty quickly. That's especially true when the school's Big Ten rival, the Ohio State Buckeyes, rolled into town for a Saturday night "White Out" in prime time.
The day of festivities started with ESPN's College GameDay, and it ended when a state police helicopter buzzed an area of the tailgates sending tents, chairs, food and tables flying, causing damages to vehicles and even a few injuries. While information from police about why the helicopter was dispersed is available, the stunt was incredibly dangerous and is bringing an investigation from the Federal Aviation Administration.
The Pennsylvania State Police Department released this statement concerning the stunt:
"The Pennsylvania State Police was called to assist in response to a large-scale party that was getting out of hand, creating a risk to persons and property. First, the tailgaters ignored commands to disperse from law enforcement on the ground.

"Then PSP deployed personnel, including the Pennsylvania State Police Tactical Mounted Unit. The crowd began to turn unruly and two PSP horses were assaulted and a trooper was injured. Ground units pulled back in an effort to de-escalate the situation.

"Following this incident, the Pennsylvania State Police Aviation Unit was called to assist. A helicopter was utilized to issue commands to disperse via loudspeaker. When personnel on scene noticed the helicopter was low enough to disturb items on the ground, the helicopter pulled up to a higher altitude.

"The PSP Tactical Mounted Unit and the Aviation Section routinely provide assistance at events like this when large crowds are expected."
RELATED: University President Issues Apology For Taking Beer Bong at Tailgate
The party causing issues was apparently a fraternity gathering, according to Scott Olsen, a Penn State student's parent who was right next to the unruly tailgate party. Olsen said that despite 15 to 20 officers, as well as police horses, appeared in an attempt to disperse the gathering, Olsen's tailgate had no issues with the party.
When Penn State police and the state police apparently could not disperse the crowd using any other method, the chopper was dispatched to "issue commands" over their speaker system.
The video footage circulating social media of the helicopter fly-by is absolutely terrifying as the chopper sends debris flying and tents spinning all over the place.
If these videos, and eye-witness testimony is any indication, there's no way trained aviation pilots were oblivious to the dangers of flying at such a low altitude.
Pending the FAA's investigation, the Pennsylvania State Police have already announced that they'll discontinue using helicopters to combat crowd dispersal and unruly behavior.
Regardless of intent, this seems like a drastic measure that's only created more problems than it was worth.