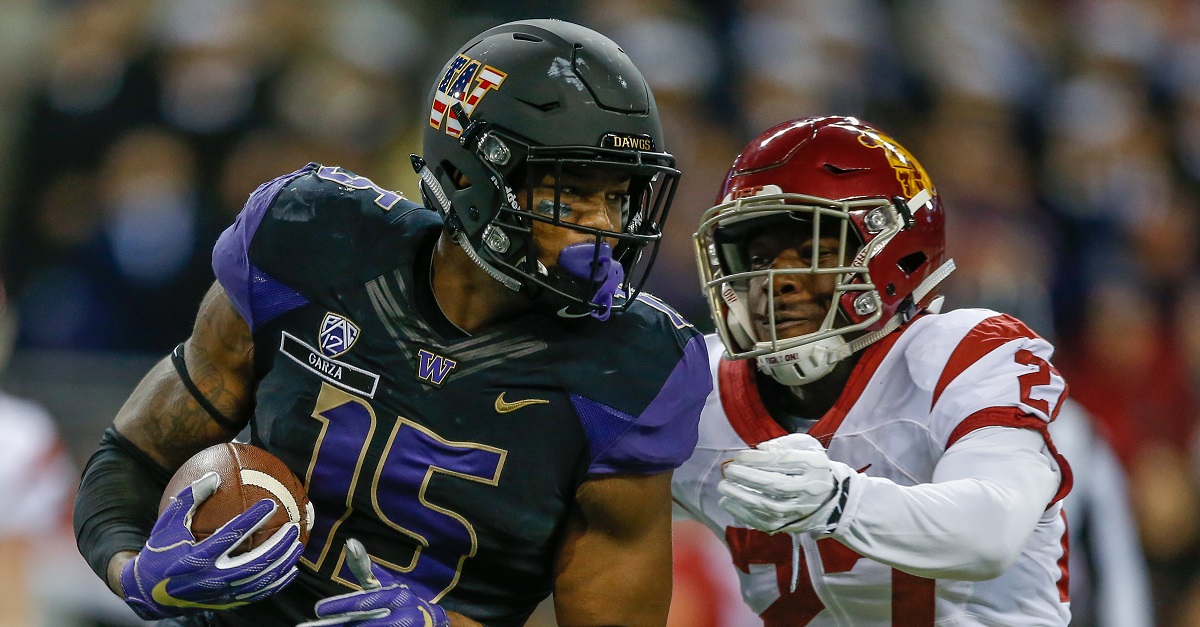 Otto Greule Jr./Getty Images
SEATTLE, WA - NOVEMBER 12: Tight end Darrell Daniels #15 of the Washington Huskies rushes against defensive back Ajene Harris #27 of the USC Trojans on November 12, 2016 at Husky Stadium in Seattle, Washington. The Trojans defeated the Huskies 24-13. (Photo by Otto Greule Jr/Getty Images)
On Tuesday night we got a pretty lame excuse for why West Virginia at 8-1 was ranked so far behind a 7-3 USC and 8-2 Oklahoma team. Apparently one loss to a Top 25 team hurts more than no wins against a Top 25 team and a "prolific" offense and 7-game winning streak in the case of Oklahoma.
RELATED: Playoff committee chair has bogus explanation for one team's lofty ranking latest rankings
It looks like we might be seeing more tomfoolery from the committee as the chairman of it basically opened the door for two Big Ten teams to make it into the Playoffs.
Winning a conference title might help prove that a team is the best in it division or conference and that would likely mean a snubbing of Washington even if the Huskies go on to win the Pac 12. So if the committee feels like Ohio State and Michigan are the best teams from the Big Ten — even if one does not win the conference title game — and that one is better than a one-loss Washington we could see a real "B1G" playoff.
RELATED: Major shakeups occur in CFP Rankings after Week 11 upsets
And everyone thought there would be serious SEC bias again this year. As it stands now, the Big Ten does have both Ohio State and Michigan as the No. 2 and 3 teams, respectively. So don't be surprised when the committee comes out in a couple weeks and tells us there's precedent for their selection.