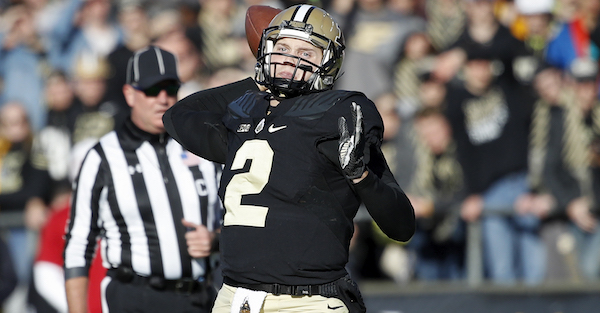 Joe Robbins/Getty Images
WEST LAFAYETTE, IN - NOVEMBER 25: Elijah Sindelar #2 of the Purdue Boilermakers throws a pass against the Indiana Hoosiers in the third quarter of a game at Ross-Ade Stadium on November 25, 2017 in West Lafayette, Indiana. Purdue defeated Indiana 31-24. (Photo by Joe Robbins/Getty Images)
The 2017 Foster Farms Bowl was a wildly entertaining match-up between Purdue and Arizona, with the Boilermakers prevailing behind strong play from quarterback Elijah Sindelar. The on-field product was impressive enough from Sindelar in a game in which he threw for nearly 400 yards and four touchdowns but, after the fact, Purdue head coach Jeff Brohm put forth a significant admission with regard to his signal-caller.
In short, Brohm told the media (via ESPN) that Sindelar has been playing with a torn ACL in his left knee.
"For somebody to play almost four games with that, three and a half, that's amazing. I couldn't be A, prouder of his performance, but to perform with that serious of an injury? How many people can do that? It's less than 1 percent."
It may seem wild that a college coach would allow a player to function through that kind of injury and Brohm addressed that by indicating he needed some convincing from Sindelar.
"My first thing was no. There's no way he should play. I think he's had his knee operated on more than a few times. I thought if he can wear that brace and keep it stable and if he feels like he can go, we can give it a try. I was very leery at first, but Elijah wanted to do it. We went through our trainers and doctor. He was able to pull it off."
This certainly won't be enough justification for everyone and there has already been backlash to Sindelar being allowed to play with the injury. His performance was even more impressive as a result of the ailment but questions will almost certainly remain about the decision itself.