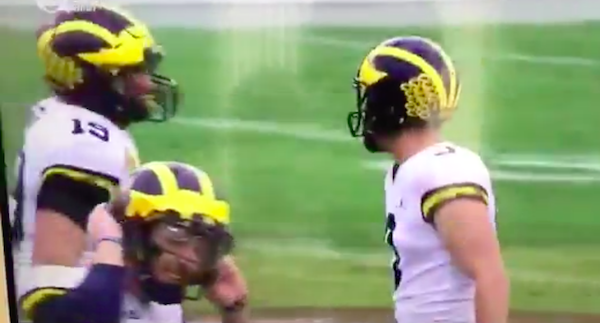 @ByMikeWilson/Twitter
@ByMikeWilson/Twitter
Michigan kicker Quinn Nordin may have gotten a bit carried away with his celebration during the Outback Bowl on Monday.
After his initial missed attempt was negated by a South Carolina timeout, Nordin connected on a 45-yarder as time expired and proceeded to grab his groin area while yelling at the Gamecocks' sideline.
Ouch.
The field goal put Michigan ahead, 9-3, at halftime before the Wolverines extended their lead to, 16-3, following a 1-yard touchdown run by Ben Mason in the third quarter.
But it was Nordin's "Baker Mayfield-esque" celebration that was the biggest highlight of the game so far, even if it was for the wrong reason.