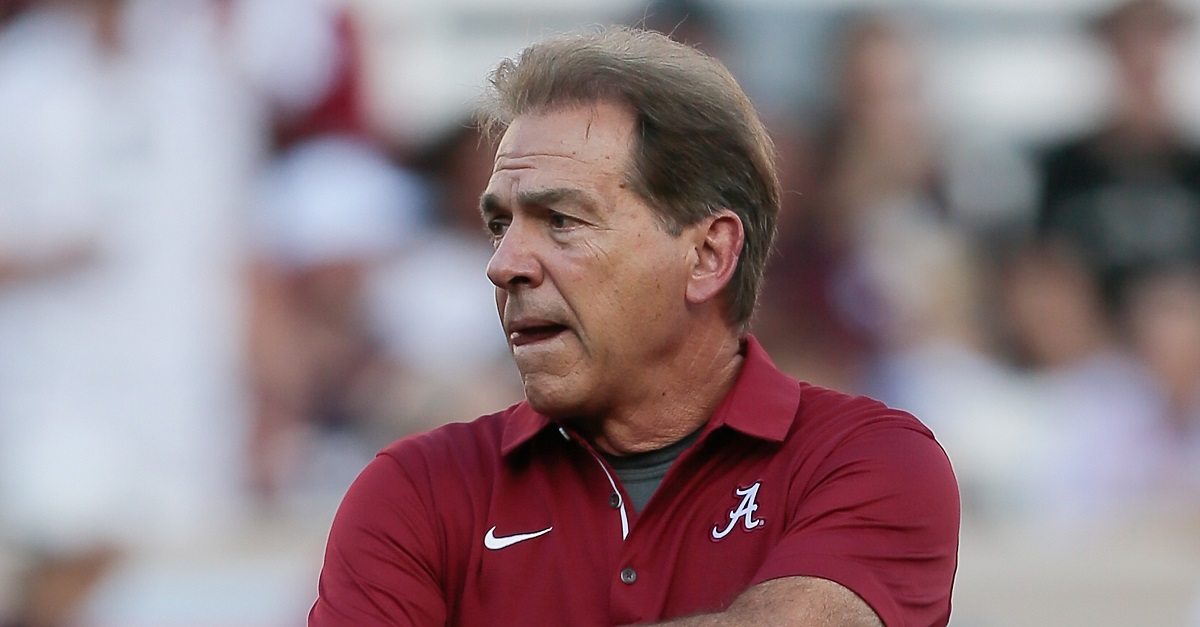 Bob Levey/Getty Images
COLLEGE STATION, TX - OCTOBER 07: Head coach Nick Saban of the Alabama Crimson Tide looks on during pre-game warmups before playing the Texas A&M Aggies at Kyle Field on October 7, 2017 in College Station, Texas. (Photo by Bob Levey/Getty Images)
Only three Power-5 teams remain with unblemished records in 2017 and the Alabama Crimson Tide act as the headliner of a group that also includes Wisconsin and Miami. By nature of the Tide's affiliation with the SEC and its extensive history of success, Alabama has earned the benefit of the doubt as a largely unquestioned No. 1 team in the country this season but, at least according to one advanced rating system, the Crimson Tide have navigated a schedule that isn't exactly impressive.
Jeff Sagarin of USA Today operates a system that was once part of the BCS mix and, after this week's schedule of events, Alabama's schedule now ranks at just No. 63 overall nationally. That isn't a shock considering the way that Florida State (Alabama's headliner in non-conference play) has fallen apart, but the presence of Mercer on the schedule did not help things this week.
In fact, the Sagarin Ratings now indicate that Alabama has the easiest schedule of any College Football Playoff contender and the path for Nick Saban's team rates as the easiest of any top-25 program outside of the undefeated UCF squad led by Scott Frost. Of course, not every system rates Alabama's schedule this poorly but, before the Crimson Tide face Auburn on the road in the Iron Bowl, the resume of wins doesn't scream as particularly impressive.
Context matters and Alabama is a very, very good football team. With that said, the Crimson Tide's profile becomes a lot shakier should they lose to Auburn, especially without the presence of top-tier wins elsewhere on the schedule.